Whitening Your Teeth While You Have Braces
We all wish for a bright, white smile. However, this may be harder to achieve if you have braces or other orthodontic appliances. You have likely heard many misconceptions and competing thoughts regarding whitening your teeth while you have braces. We hope to clear up this confusion for you so that you can achieve the smile of your dreams! 
Can you whiten your teeth with braces? Traditionally, orthodontists have discouraged teeth whitening while an individual has braces. However, while it will depend greatly on your unique situation and the type of braces you have, there are teeth whitening options available! From at-home whitening products to upgrades to your oral hygiene routine, you too can achieve a bright smile while straightening your teeth. 
In this article, we will cover the various types of teeth whitening products that may be appropriate for use during your orthodontic treatment. We will also discuss some of the reasons why orthodontists have traditionally been against whitening treatments. We hope this article will prove useful as you seek to achieve a smile that is both whitened and well-aligned!
Things to Consider Before Whitening Teeth With Braces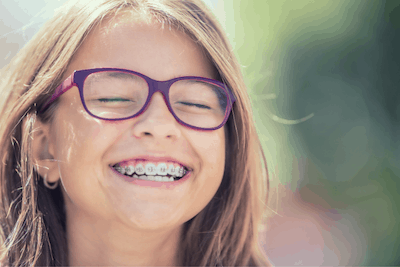 When you notice your teeth beginning to appear dull or discolored, the only thing on your mind is how to once again achieve the smile you love! Unfortunately, many individuals with braces experience discoloration of varying degrees throughout their orthodontic treatment. This is largely due to the fact that cleaning your teeth with braces can be quite a challenge! 
As plaque begins to accumulate under your braces, your teeth can begin to appear dull and discolored. The first step to take in your journey to whiter teeth is to reassess your oral hygiene habits and routines. Ask your dentist or orthodontist for advice on how you can keep plaque at bay between your visits before investing in a more expensive whitening treatment.
Type of Braces You Have Will Impact Teeth Whitening Options
While traditional metal braces with brackets that attach to the surface of each tooth are still widely used today, there are other types of braces that have entered the market. The type of braces you have will heavily impact the options you have as far as teeth whitening treatments.
Traditional braces are, by far, the most limiting when it comes to whitening your teeth with braces. However, if your orthodontic care includes aligners such as Invisalign or other alternatives, you likely will be able to take advantage of any teeth whitening treatment that is available!
How to Whiten Your Teeth With Braces
Depending on the severity of your misalignment or the type of orthodontic device that your dentist is using, you will likely have braces for anywhere between 6 to 18 months. As you can imagine, your teeth can become discolored during this time! Fortunately, there are several solutions available for teeth whitening with braces.
Always Ask Your Orthodontist Before Any Whitening Service
As with any type of dental treatment, you must consult with your orthodontist before investing in any teeth whitening service. Some types of whitening services may interfere with your orthodontic device or disrupt your treatment. Additionally, your orthodontist understands your situation thoroughly and will be able to guide you towards a service that will most greatly benefit you. 
Consider Teeth Whitening Toothpaste or Mouthwash
One of the best ways to whiten your teeth while you have braces is to implement a tooth whitening toothpaste or mouthwash into your oral hygiene routine. While these at-home products will not make a dramatic impact on the color of your teeth, they will also not be strong enough to create uneven color once your braces are removed.
Generally, teeth whitening toothpaste or mouthwash is safe for anyone with braces to use, regardless of the type of braces you have. 
Opt for an Electric Toothbrush Over a Manual Toothbrush
Especially for individuals with traditional metal braces, cleaning between each bracket and under the connecting wire can be quite challenging! This is the greatest cause for discoloration and dullness with braces. Opting for an electric toothbrush over a manual toothbrush can help you thoroughly clean the surface of your teeth.
Depending on your unique orthodontic care, your teeth may be more sensitive immediately following an adjustment to your braces. For this reason, you should keep your manual toothbrush on hand for those days when your teeth are a bit more sore than normal.
Do Not Neglect Professional Dental Cleaning Appointments
When you have braces, it may feel as if you are always at a dentist of some sort. Because of this, many individuals with braces neglect their professional dental cleaning appointments. Depending on your orthodontist, these cleaning services may be available in conjunction with your braces adjustments. 
However, if they are not included, you must be sure to schedule bi-annual cleaning appointments with a Tulsa children's dentist that is recommended by your orthodontics team.
Use a Waterpik to Remove Staining
Much like an electric toothbrush, a Waterpik removes teeth stains! This great tool will amp up your oral hygiene routine and allow you to achieve an even fresher smile. Using high amounts of water pressure, a Waterpik can carefully clean the surface of your teeth, reaching behind and between even the smallest of brackets. 
Waterpiks and other water flossers are often recommended by orthodontists and dentists alike for both their whitening and flossing capabilities. Investing in this piece of equipment can go a long way in helping you achieve the smile of your dreams!  
Ask Your Orthodontist About AuraGlow Whitening Treatments
In-office whitening treatments may be off the table while you have braces. However, your dentist may be able to recommend a professional at-home solution. Whitening treatments such as AuraGlow are a great alternative for some individuals, specifically those using alternative orthodontic treatments such as Invisalign. 
This teeth whitening kit provides professional results in the comfort of your own home. Unlike other products, AuraGlow only uses ingredients that are safe for your smile! If you are looking to achieve whiter teeth while you have braces, be sure to ask your orthodontist about AuraGlow or other similar products.
Reasons Orthodontists Discourage Teeth Whitening With Braces
If your orthodontist discouraged you from pursuing teeth whitening treatments while you have braces, you are likely more than a little frustrated. However, there is good reasoning behind this advice. It is important to realize that your orthodontist and dental team understands your unique situation better than anyone else. 
Whitening May Cause Uneven Coloring Once Braces Are Removed
The primary reason why many orthodontists and dentists discourage teeth whitening with braces is that it may cause uneven coloring once your brackets are removed. If you use heavy-duty whitening products while brackets cover the majority of your tooth, you will be whitening only an area of the surface. 
For this reason, many dentists recommend teeth whitening treatments before, but more importantly, after you have braces. Consider it a sort of celebration for finally completing the often arduous process of orthodontic treatment!
You can learn more about getting your teeth whitening at the dentist here.
DIY Teeth Whitening Methods Could Damage Your Braces
Another reason why teeth whitening is often discouraged while you have braces is that it could damage your braces. From the cement that is holding your brackets in place to the brackets themselves, you must keep your braces in good condition.
Many teeth whitening products, especially DIY alternatives, can accelerate damage to your braces and impact your orthodontic care. For this reason, you must consult your dentist before beginning any type of teeth whitening treatment, especially a DIY solution.
For these reasons and others, it is wise to consider alternative teeth whitening methods that may be less intrusive. Things like a more thorough oral hygiene routine, an electric toothbrush, or regular dental cleanings can eliminate much of the discoloration under your braces.
Achieve the Bright White Smile of Your Dreams!
As you are on a journey to a straighter smile, you should not have to sacrifice whitened teeth. While traditionally, teeth whitening was discouraged with braces, there are now many options available. If you have traditional braces with brackets, your options may be more limited than if you are using aligners such as Invisalign. 
The best way to achieve a bright, healthy smile is to prioritize your oral hygiene. With thorough brushing twice a day, daily flossing, and healthy habits, you will be able to maintain the bright color of your teeth. If you have recently begun your orthodontic treatment, you may find oral hygiene to be an area of frustration. Your orthodontist or dentist can help you find a routine that works for you as you navigate your new orthodontic appliances. 
It is important to remember that although there may be teeth whitening options available to individuals with braces, your orthodontist understands your unique situation best. You must always defer to their advice or recommendations regarding teeth whitening while you are under their care. Doing so will ensure the best results and a healthy, bright smile to last you a lifetime!  
Thank you for reading Modern Dental Hygiene! Find more great oral health tips and techniques here.