Unfortunately, even with the most thorough oral care routine, we all develop stains on our teeth over time. Whether from different types of food, drink, or lifestyle habits, there are a variety of ways to remove the stains from the surface of your teeth. Methods ranging from at-home oral care products to professional services allow individuals to remove the stains on their teeth effectively and efficiently. 
So, do Waterpiks remove teeth stains? Although Waterpiks were initially introduced as an alternative to traditional flossing, they can also help remove teeth stains. The additional water pressure removes plaque more effectively. However, there are also many products you can add to the Waterpik to accelerate the stain removal process.
Depending on the severity of staining on your teeth, a Waterpik can be a cost-effective and fast solution for minimizing or removing tooth discoloration. For individuals with more severe tooth staining, however, more aggressive forms of teeth whitening may be more beneficial.
In this post, we will discuss how to remove teeth stains using a Waterpik. We will also share some of the additional benefits of this oral hygiene tool. Finally, we will share several other ways to remove stains from your teeth. We hope this information helps you achieve the bright white smile of your dreams!
Removing Teeth Stains Using a Waterpik
By far the most effective way to remove teeth stains is to establish a preventative method as part of your daily oral hygiene routine. One tool that is perfect for such an endeavor is the Waterpik. A Waterpik will work to not only remove any existing teeth stains but will actively prevent teeth stains in the future. 
What is a Waterpik?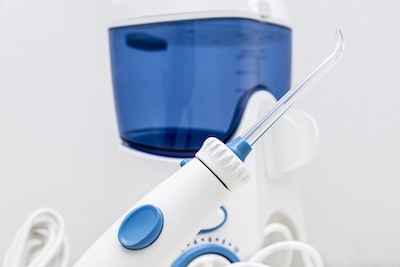 A Waterpik or water flosser is an oral hygiene tool. It uses a directed flow of pressurized water to clean the surface of your teeth as well as the area between your teeth. This gadget was originally introduced as an alternative to flossing. However, it has also proven to be effective in removing teeth stains.
Although this tool does clean your teeth, it is not meant to replace your twice-daily toothbrushing. Rather, a Waterpik or water flosser should be used in conjunction with your regular tooth brushing routine. Additionally, you should still use traditional dental floss regularly. Traditional floss is the best way to remove plaque and debris from between your teeth. 
Waterpiks or water flossers work to remove teeth staining in two ways. Many times, teeth begin to appear discolored as a result of plaque buildup on the tooth's surface. The pressurized flow of water from the Waterpik can more effectively clean this plaque and eliminate the possibility of buildup. 
However, you can also use teeth whitening agents that are mixed into the Waterpik's water reservoir to accelerate the stain removal and tooth whitening process. These are just a few of the ways that a Waterpik can benefit your oral health and hygiene.
Benefits of Using a Waterpik
Whether tooth staining is a concern or not, a Waterpik or water flosser can benefit virtually anyone. There are endless benefits to incorporating this oral hygiene tool into your daily routine. Here are just a few of the most popular.
Waterpiks Can Help Remove Teeth Stains
As mentioned above, Waterpiks can help remove teeth stains. This method is most effective for individuals with mild to moderate cases of tooth discoloration. However, even for individuals with more severe discoloration, the Waterpik can provide some improvement. 
By using a directed flow of pressurized water, the Waterpik works to remove plaque from the surface of each tooth. Most times, a buildup of plaque is the primary culprit of tooth discoloration. In recent years, oral hygiene companies have introduced a range of products that can be infused into the water reservoir of the Waterpik to accelerate the stain removal process. 
Waterpiks Can Help Remove Bacteria & Debris Between Teeth
Waterpiks were initially introduced as an at-home solution for removing bacteria and debris from between the teeth. Whether due to orthodontic appliances, implants, or other concerns, some patients are unable to easily floss using a traditional method. You can learn more about why floss gets stuck between your teeth here.
Although traditional flossing is always the best way to clean the area between your teeth, a Waterpik or water flosser comes in a close second. Using a Waterpik, you can quickly and easily remove bacteria and debris from both the surface of your teeth and the area in between. A Waterpik or water flosser loosens this debris. Because of this, it is important to brush your teeth thoroughly once you are done using the device.
Waterpiks Reduce Plaque on Surface of Teeth
Plaque buildup is, unfortunately, something that everyone must deal with. Even with the most thorough oral hygiene routine, plaque continues to form on the surface of your teeth. While twice-daily tooth brushing does help stave off the growth of plaque, it is not able to eliminate it entirely.
Additionally, plaque often gets trapped in hard-to-clean areas such as between and behind your teeth or in the back of your mouth. Plaque, a buildup of bacteria, can eventually lead to tooth decay or even gum disease. Adding a Waterpik to your daily oral hygiene routine can help to keep your teeth clean between your visits to your dentist.
Waterpiks Provide Easy Cleaning of Implants & Appliances
Dental implants, devices, and orthodontic appliances can make flossing and bruising a serious chore. While it is important to continue these practices, a Waterpik can eliminate some of the frustration surrounding the task. If you have dental implants or orthodontic appliances in your mouth, be sure to ask your dentist if a Waterpik is safe to use.
Alternative Methods for Removing Teeth Stains
Depending on the severity of your teeth stains and the condition of your overall oral health, a Waterpik may not be the best route for you to take. Fortunately, there are countless other ways to achieve a bright white smile regardless of your current tooth discoloration.
Teeth Whitening Products
With products ranging from whitening toothpaste to at-home tooth whitening kits and natural tooth whitening methods, there are plenty of options available. At-home tooth whitening products are usually best suited for mild cases of tooth discoloration. These whitening products are also excellent for preventing the development of stains on your teeth. Next time you visit your local dentist, ask for recommendations on at-home teeth whitening products.
Routine Dental Cleanings & Exams
One of the best ways to remove staining on your teeth is through bi-annual dental cleanings and exams. While at-home oral care is imperative for keeping plaque buildup at bay, professional dental cleanings are the only way to achieve a clean slate. 
Additionally, your Alabama dentist will be able to advise you on steps you can take to further clean and brighten your teeth through additional services or at-home oral care.
Professional Teeth Whitening
There are, of course, situations that call for more drastic treatment. Many cosmetic dentists offer professional teeth whitening services that will work erratically to remove tooth staining. The results are virtually instantaneous. Because of this, it is a popular service for individuals approaching a wedding or other big life event for which they want to feel their very best.
While professional teeth whitening is not the cheapest alternative, the drastic and long-lasting results often prove to be well worth the investment, provided you practice proper maintenance following whitening.
Porcelain Dental Veneers or Other Dental Interventions
In some cases, the staining to the teeth is too severe to be treated with professional teeth whitening. Whether due to a lifetime of damaging lifestyle habits or a medical condition, severe tooth staining is often best treated through porcelain dental veneers or other cosmetic dentistry interventions.
Achieve Bright White Teeth Today!
If you are looking for a way to brighten your smile and remove those pesky teeth stains, ask your dentist about incorporating a Waterpik or water flosser into your oral hygiene routine. With the help of this handy tool, the bright white smile of your dreams is within reach! 
Thank you for reading! You can find more oral health tips here.