How Long Do Teeth Whitening Results Last?
Professional teeth whitening is a treatment that can dramatically improve the appearance of your smile. It's an effective, safe way to get professionally white teeth as well as remove stains from coffee, red wine, and smoking. Many individuals have unanswered questions preventing them from pursuing this cosmetic treatment.
How long will my teeth stay white? The average professionally whitened teeth typically last from one to three years but can fade in as little as 6-9 months.
In this blog post, we'll discuss different types of professional teeth whitening treatments and their pros and cons. With this information, you can decide which one is right for you!
What is Professional Teeth Whitening?
Professional teeth whitening is a safe and effective way to brighten your smile. It's the process of removing stains on enamel with an oxygenating agent called hydrogen peroxide.
Hydrogen peroxide bleaches the surface of your tooth by breaking up some parts of its crystalline structure without damaging it.  This allows you to have professionally white teeth for short-term or long periods depending on what results are achieved.
Average Results for Professional Teeth Whitening
The average professional teeth whitening results last from one to three years. Your personal results will depend greatly on your oral hygiene routine, how carefully you follow your dentist's aftercare instructions, and even your dietary habits.
How Much Does Professional Teeth Whitening Cost?
The average cost of professional teeth whitening varies depending on the dentist and type of whitening treatment performed. On average, the cost for professional teeth whitening is $100 to $500 per session or more.
The cost of professional teeth whitening is typically higher than at-home options because the dentist's office offers a more comfortable, customized experience with faster results.  However, this service can be costly if you need multiple sessions.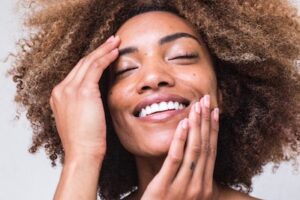 In-Office Teeth Whitening Pros and Cons
The most common type of professional teeth whitening is done at a dental office under the supervision of an experienced cosmetic dentist. In-office treatments are performed by applying protective gels, light activators, or heat lamps that help activate hydrogen peroxide for faster action on your tooth enamel. 
Once activated, this treatment typically takes about 30 minutes to complete depending on how dark your stains are.
In-office teeth whitening is fast and efficient but there are some cons as well: It may not be covered by insurance; you'll need time off work/ school; you can't eat or drink anything for 30 minutes before treatment, and you'll need to avoid certain foods that can affect your teeth whitening results.
Types of Professional Teeth Whitening Treatments
There are three different types of professional teeth whitening treatments offered by dental professionals such as those at Children's Dental Health Center: in-office, take home, and custom tray system.
Each treatment varies based on how much time each one takes as well as their cost-effectiveness vs convenience factor! Keep reading below to learn more about these options.
In-Office Teeth Whitening
This professionally whitened teeth process takes about one hour. The dentist customizes the concentration of hydrogen peroxide for your specific needs and then applies it to your teeth with special LED or laser light technology.
Your bleaching gel can be either a tray that you wear over your mouth during the procedure or take-home trays are provided in advance so you have time to get used to them at home before being professionally whitened later.
The pros include not needing any additional supplies because they are already provided by the dental office, achieving dramatically white results in just one visit, shorter treatment times compared to other options, fewer potential side effects when compared with taking prescription drugs before getting professionally white teeth.
The cons include a more expensive cost, you cannot eat right after professionally whitened teeth, and very sensitive teeth for up to two days.
Take Home Teeth Whitening
This treatment typically lasts around two weeks or less if desired results are achieved sooner! You first visit with your dentist who professionally whitens your teeth then provides take-home bleaching gel in trays customized to fit over your mouth comfortably.
The pros of this option are that it's convenient because there is no need to schedule an appointment every time professionally white teeth are needed; instead, simply pop out the tray from its original packaging and put it on like any other type of plastic dental appliance (flippers, retainers). The only con would be not achieving dramatic professionally white teeth results in just one visit.
Custom Tray System
This professionally whitened teeth method is similar to the take-home professionally whited teeth treatment above, but it takes longer because you must wear your tray for about two hours each day during a two-week period of time.
Your dentist provides custom trays that are individually fitted over your mouth and professionally whitened before leaving their office! The pros include more affordable costs than other options. There is no guarantee of achieving desired professionally white teeth results with this option.
Additionally, after using any type of bleaching gel regularly many people notice tooth sensitivity during professional treatments as well as afterward until enamel returns to normal levels (usually two to five days).
Is Professional or At-Home Teeth Whitening More Effective?
This question is largely a matter of personal preference. Some people love the convenience and flexibility that professionally white teeth treatments offer!
In addition, having professional treatment means no additional supplies are needed for at-home use. Because of this, it may be more cost-effective.
However, with any type of bleaching gel, you will need to keep up your normal oral hygiene routine including brushing twice daily and flossing regularly after each session (which should only take about 30 minutes) while also avoiding dark-colored drinks like coffee or tea which can make stains worse. 
At-home professionally white teeth treatment may be the only option for people who have sensitive teeth.
Finally, there are no long-term side effects after using at-home treatments. You can use them as many times as needed without worrying about bad breath or other issues!
Custom Teeth Whitening Trays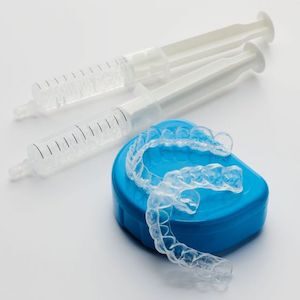 Can I Do At-Home Bleaching Myself?
At-home kits are a cheaper alternative to professional teeth whitening. It is important, however, not to use them too often as they can damage your tooth enamel over time. Professional treatment will ensure that you get the results you desire in a safe manner that does not cause long-term harm.
What Kind of Dentist Provides Professional Teeth Whitening?
A cosmetic dentist specializes in treatments for their patients' smiles and many have extensive knowledge about various types of professionally whitened teeth. They also offer other services such as braces, veneers, crowns, bridges, and Invisalign. Their services are designed to enhance your smile's beauty without
At-home whitening treatments like at-home trays or Zoom! are more powerful than strips but they can vary in duration based on the intensity of use and individual factors such as saliva control during application. The results should last up to six months which gives plenty of time before needing another touchup session.
When Should You Have Your Teeth Whitened?
So, when do you know that it's time for tooth whitening? You should think about getting a professional teeth whitening treatment when your smile looks dull, discolored, or stained. This usually occurs around the same time that people notice they have yellowed teeth from drinking coffee or wine!
However, you should not have your teeth bleached if they already show signs of decay. In this case, a regular visit to the dentist is in order. Professional treatment can lead to more issues down the road including permanent damage and loss of enamel.
How Safe is Professional Teeth Whitening?
Professional treatments are proven effective for people with all types of tooth stains! However, when it comes to at-home options like strips or trays there may be some differences between individual products based on quality and ingredients used. Make sure that your kit contains peroxide as its main active ingredient – typically around 18 percent.
In addition, avoid whiteners with high levels of abrasives. Abrasives can wear away your enamel over time, especially if you use them too often.
Professional teeth whitening treatments are safe and do not require any type of anesthesia or numbing medication. Because of this, they can be used by anyone who wants to brighten their smile!
Does Dental Insurance Cover Professional Teeth Whitening?
Yes, your insurance company may cover professional bleaching. However, this largely depends on the specific policy that you have with your provider. It's important to get in touch with your dental office before beginning treatment for details about coverage options. If there aren't any benefits under your plan, then at-home kits may make more financial sense.
Achieving the Bright, White Smile of Your Dreams
The most important thing is that you find the teeth whitening method that works best for you! For some people, professional treatment may not offer enough convenience. They may opt to do the procedure themselves with an at-home kit instead of going through repeated office visits.
You must weigh all factors such as price, effectiveness, duration between touchups, potential side effects (including tooth sensitivity), and how often it will need to be done before choosing which type of professional teeth whitening treatment plan is right for you.
People who are looking forward to their smile want white teeth because it makes them look better but there should also be other reasons which should motivate them to get their teeth white.