What You Should Know About Professional Teeth Whitening
We all love the look of a bright, healthy smile! Unfortunately, whether due to aging, dietary habits, or lifestyle choices, our teeth can begin to appear dull over time. This can put a damper on our confidence, causing us to believe that we need to hide our smiles! Luckily, there are countless teeth whitening solutions ranging in cost and efficacy. With the help of teeth whitening services or products, you can restore the bright smile of your youth! 
Is getting your teeth whitened at the dentist worth it? Many individuals shy away from the thought of getting their teeth whitened at the dentist as they believe it is not worth it. However, while professional teeth whitening does require a higher investment, it also provides better, faster results. Additionally, professional products or services will prevent damage to your teeth or oral tissue, something that may happen with over-the-counter whitening solutions.
Have you noticed that you cover your mouth when you speak or laugh? Do you avoid smiling? Many dentists provide both in-office and at-home teeth whitening options that allow you to brighten your smile in a way that is convenient for you! Through professional teeth whitening, you are provided with a quick and safe solution that will eliminate any self-consciousness over the color of your teeth.
In this post, we will discuss the various types of professional teeth whitening solutions. We will also list a few of the many reasons to consider investing in teeth whitening at your dentist as opposed to over-the-counter products. Finally, we will share some important tips for maintaining your newly whitened smile! 
Professional Teeth Whitening Services
Thanks to modern dental advancements, most dentists currently offer both in-office or take-home teeth whitening services. These products are designed to quickly and effectively make your smile several shades whiter! In general, in-office teeth whitening is more appropriate if you want immediate results. 
However, if budget or time constraints are preventing you from brightening your smile, a take-home treatment may be a better solution. Your dentist will discuss your needs, goals, and concerns, recommending a professional teeth whitening solution that works for you! 
If you have healthy teeth and gums and wish to achieve whiter teeth, you are likely a perfect candidate for teeth whitening services. There are, however, a few limitations on who can safely use teeth whitening products. 
Teeth whitening is not a suitable option for patients who are currently pregnant, or have one or more of the following health concerns:
Chronic Dental Sensitivity
Intrinsic Dental Staining (caused by dental trauma, tetracycline, or other factors)
Periodontal (Gum) Disease
Oral Cancer
Cavities, Tooth Decay, or Exposed Roots
During your initial appointment, your dentist will carefully assess your candidacy before recommending teeth whitening or any other treatment. Oftentimes, patients who wish to upgrade their smiles with porcelain veneers and other cosmetic solutions choose to incorporate whitening into their treatment plans for dramatic enhancement.
In-Office Teeth Whitening Services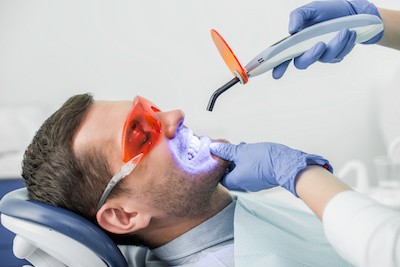 When you first consider getting your teeth whitened by a professional, your first thought is likely an in-office teeth whitening service. Many dentists utilize technology such as in-office Zoom! teeth whitening which uses a special light to intensify the effects of the whitening solution. While this is certainly more of an investment than a take-home product, it also provides better, and faster, results. 
During the in-office teeth whitening treatment, your dentist will apply a whitening solution to your teeth for approximately 15 minutes. During this time, he will use the Zoom! light to intensify the effect of the gel and eliminate the discoloration. This process is repeated three times. 
Within about 60 to 90 minutes, you will notice a visibly whiter smile. You may experience dental sensitivity for the first few days following your treatment. This in-office teeth whitening procedure is optimal for patients in need of fast results for a wedding or special event. 
Take-Home Teeth Whitening
However, in-office teeth whitening is not the best solution for all patients. Fortunately, there are a variety of take-home teeth whitening solutions that your dentist can recommend. If time is not a priority and you are looking for a convenient solution that can be administered at your leisure, you may benefit from at-home teeth whitening. 
These take-home treatments involve using a kit that includes professional-strength gel and custom-made mouthpieces that fit over your dental arches. During your initial consultation, your dentist will take impressions of your teeth to create the mouthpieces. Within a few weeks, they will make sure your trays fit comfortably over your teeth and send you home with the trays and whitening gel to be used at your convenience. 
If you wear your trays consistently each night, you can achieve results in about one to two weeks. Professional take-home whitening kits are not only safer than over-the-counter products but are also much more effective. 
Not everyone is in a position to invest in professional teeth whitening services, even take-home solutions. If you are hoping to achieve a bright, white smile at a fraction of the cost, ask your dentist what over-the-counter products they would recommend.
While over-the-counter whitening products will not provide you with nearly as impressive results, they will allow you to combat the tooth discoloration you are experiencing. It is important to note, however, that over-the-counter products must be used with care as they may damage the enamel of your teeth or your oral tissue. For this reason, it is best to consult with your dentist before beginning to use one of these whitening products.
Some dentists will even recommend hygiene products such as a Waterpik to remove teeth stains. Regardless of your current situation, there are always ways to achieve a brighter smile.
Reasons to Consider Teeth Whitening At The Dentist
Getting your teeth whitening at the dentist requires not only an investment of your resources but also your time. For this reason, it is important to carefully consider whether this service is right for you! However, for most people, professional teeth whitening services are well worth the investment. Here are just a few of the reasons to consider teeth whitening at the dentist:
Quickly Achieve an Attractive New Look
Professional teeth whitening is a common, affordable cosmetic dentistry solution that eliminates dental stains to give your smile a healthy, attractive new look. When you are preparing for a wedding, graduation, new job, or even just a long-anticipated vacation, you want to look and feel your best! 
While many cosmetic dentistry services require months of treatment to achieve visible results, teeth whitening at the dentist is a quick way to transform your smile. In fact, with in-office teeth whitening services, you will leave the office with a smile that is several shades brighter than it was when you arrived! 
Customized Teeth Whitened Services Unique to Your Needs
Although there is a time and place for over-the-counter teeth whitening solutions, they do not cater to your unique needs and concerns. When you get your teeth whitened at the dentist, they can customize the service to suit your smile! Whether you would like the whitening to focus on a certain area, or you are concerned about potential damage to your oral tissues, professional teeth whitening caters to you. 
Whitened Teeth Provide You With a Boost in Confidence
There are not many feelings worse than having to consciously hide your smile. Unfortunately, for many adults, tooth dullness or discoloration has hindered their confidence. When you are not confident in yourself, you are not able to fully perform in your professional or personal life.
Through teeth whitening at your dentist, you can quickly experience the drastic boost in confidence that comes with feeling (and looking) your very best! 
Avoid Damage to Your Enamel
As mentioned previously, many over-the-counter teeth whitening solutions and products can damage not only your enamel but also your oral tissue. With professional teeth whitening at your dentist, you can achieve better results while avoiding this permanent damage. 
Caring for Your Teeth After Professional Teeth Whitening
After you have achieved a bright, white smile through professional teeth whitening, it is important to care for your teeth properly! It would be pointless to invest time and money into a complete smile transformation only to go back to the habits that caused tooth dullness in the first place. 
There are several things you can do to maintain your results including the following: be sure to minimize foods that can cause dental staining and follow a healthy oral hygiene regimen of:
Brush your teeth at least twice a day for two minutes each time.
Floss your teeth once a day.
Rinse your mouth thoroughly with an antibacterial mouthwash.
Avoid foods that can cause dental staining.
When drinking dark liquids, use a straw to bypass your teeth.
After eating or drinking, rinse your mouth thoroughly with water.
Visit your local dentist for bi-annual dental cleanings and exams.
You can learn more about maintaining your teeth after whitening here.
 In Conclusion
Research suggests that smiling more frequently can improve your mood, relationships, job success, and even your immune system. Unfortunately, dullness and discoloration can cause people to believe that they must hide their smiles. While we believe every smile is worth showing off, we also know that this can be a struggle. Luckily, there are countless ways to brighten your smile through both in-office and take-home whitening solutions.
Although several over-the-counter products are available at your local grocery store, these products will not provide you with the results you desire. Additionally, they can cause damage to both your enamel and your oral tissue. For this reason, we believe that getting your teeth whitened at the dentist is well worth the investment! 
Related Questions
Does whitening toothpaste actually work? With so many types of whitening toothpaste on the market today, many individuals wonder how well they actually work. In short, whitening toothpaste does offer the sensation of whiter teeth by removing the surface stains. However, tooth whitening toothpaste alone is not able to remove or alter true tooth discoloration. 
Additionally, some types of whitening toothpaste contain abrasive additives that will eventually damage your enamel. If you wish to use a whitening toothpaste, it is best to ask your dentist for recommendations to avoid unnecessary damage to your teeth.
Thank you for reading Modern Dental Hygiene! You can find more great oral health tips here.