Invisalign vs. Braces: How to Straighten Your Teeth Quickly
We all want to find the fastest, most efficient way to achieve the smile of our dreams. One of the most common dental concerns is misaligned or crooked teeth. While traditional braces have been used for decades with great success, they are often associated with the awkward high schooler. For adults who wish to straighten their teeth, traditional braces may not be an ideal alternative. Fortunately, there are other options such as Invisalign. 
Does Invisalign work faster than braces? Yes! While each patient will require a different treatment period, Invisalign typically works faster than traditional braces. The average treatment time for traditional braces is around 2 years. However, the average treatment time for Invisalign is only 12 months. Because of this, Invisalign treatment is becoming increasingly popular among both adults and high school students.
Although Invisalign is an excellent alternative to traditional braces for many individuals, there are some disadvantages. In this post, we will discuss Invisalign treatment along with its benefits and treatment process. We will also take a look at the primary differences between Invisalign and traditional braces. We hope that this information allows you to make an educated decision, along with your dentist, regarding your dental care.
What is Invisalign?
Invisalign is a treatment for straightening your teeth that is a great alternative to traditional braces. The clear aligner trays are subtle, comfortable, and effective. Upon starting your Invisalign treatment, your dentist will plan a series of aligner trays that you will work through as the weeks pass. Using the clear aligner trays will allow you to achieve a straighter, healthier smile in 6-18 months. Learn more about how Invisalign works here.
Subtly Straighten Your Teeth with Customized Invisalign
Although traditional metal braces are incredibly effective, many adults (and teens) are hesitant because of the look of braces. Using Invisalign, your local dentist will provide a series of custom-made, clear aligner trays, crafted especially for your teeth. 
The trays will be virtually undetectable and can gently guide your dental arches into straighter, healthier positions. Invisalign is more convenient and comfortable than traditional orthodontics. Are you concerned about your orthodontic treatment interfering with your graduation, wedding, or professional photos? While it is important to wear your Invisalign aligners for the majority of the day, you can remove them for short periods of time during these special events. 
Are You a Candidate for Invisalign?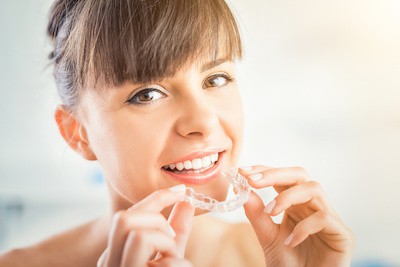 Clear aligner trays can provide subtle, discreet treatment. Invisalign may be suitable if you struggle with mild to moderate misalignment or issue including the following:
Crooked Teeth
Small Gaps
Overlapped Teeth
Rotated Teeth
Crowding
Invisalign treatment can also correct forms of malocclusion. These problems include underbites, overbites, crossbites, or open bites. During your first appointment, your dentist will determine your candidacy for Invisalign treatment with a thorough evaluation. 
At this appointment, they will look at patterns of wear and the positions of your teeth. Your dentist will also consider any chronic teeth grinding or jaw clenching. Bruxism may affect your candidacy for Invisalign treatment since the pressure on your teeth can wear through your aligners.
Before you can undergo any form of orthodontic correction, including Invisalign, your dentist will need to address current decay, gum disease, and related problems with restorative care. 
Traditional Braces vs. Invisalign Treatment
Of course, the greatest and most important difference between traditional braces and Invisalign treatment is aesthetics. Traditional metal braces, while effective, are quite clunky and obtrusive. While there have certainly been advancements in traditional orthodontics, metal braces still impact the appearance of your smile.
Invisalign, on the other hand, is virtually invisible. For this reason, it is preferred by many adults and older teens. 
Another area of difference is practicality. When you have traditional metal braces, you may not be able to participate in activities such as certain instruments or sporting events. Invisalign aligners, however, are removable. This allows you to continue doing the things you love while achieving your goal of a straight, healthy smile.
While Invisalign is an incredible technology, it is not able to treat severe cases of misalignment. For these patients, traditional metal braces are likely the best solution. 
Time of Treatment
The primary concern many people have when considering traditional metal braces versus Invisalign treatment is the time commitment. For moderate cases, traditional orthodontic treatment using metal braces requires 18-24 months. Typical treatment time for moderate cases using Invisalign is between 6-12 months. It is important to note that these timelines vary depending on the individual and how well they abide by care recommendations and treatment plans.
Cost of Treatment
Of course, the cost of Invisalign compared to traditional braces is always a concern. Traditional metal braces are, in most cases, a cheaper option. Because many dental insurance plans cover traditional braces, the cost of treatment can range from $1,500 to $5,000 on average. Invisalign, on the other hand, averages around $5,000 for treatment.
The Benefits of Invisalign
There are countless benefits to choosing to invest in Invisalign treatment. While Invisalign will help you achieve a straight, aesthetically pleasing smile, it will also improve your oral health! Here are just a few of the benefits of Invisalign:
Invisalign Treatment is Highly Effective
The most important benefit of Invisalign is that the cosmetic treatment is highly effective. Invisalign trays can correct many of the same issues as traditional braces. When you wear your retainer as directed, the results should last the rest of your life. As the name implies, Invisalign trays are virtually invisible. 
Thanks to this innovative treatment, you can straighten your teeth without feeling self-conscious about metal brackets and wires. Most patients also find Invisalign to be more comfortable than braces. The trays are typically gentler on teeth, and they will not irritate your lips and cheeks like metal brackets. 
In addition, Invisalign is convenient. Because you can remove the trays to eat, you will rarely face dietary restrictions. You also will not need to make as many trips to the dentist as you would with traditional metal braces.
Invisalign Allows You to Maintain Your Oral Health
Straighter teeth reduce your risk of decay or unusual wear patterns on your teeth. Additionally, when you have straighter teeth, you experience a boost to your confidence. This encourages many individuals to invest more effort into caring for their oral health. When you invest time and money into achieving straight teeth through Invisalign treatment, you will continue to reap the health benefits for years to come.
Invisalign Provides Great Versatility Compared to Braces
As we mentioned previously, many patients experience lifestyle and dietary restrictions due to traditional metal brackets. Invisalign, on the other hand, offers great versatility. Because Invisalign is a removable orthodontic alternative, you can safely remove your trays in order to engage in your favorite hobby or enjoy a tasty snack without fear of repercussions. 
What to Expect From Invisalign Treatment
After determining your candidacy for Invisalign, your local dentist will begin planning your treatment. First, they will take highly accurate impressions of your teeth. They will use these impressions to design a series of aligner trays to fit comfortably around your teeth. The planning stage will take about two hours. 
When the designs are finished, they will be sent to an Invisalign lab, where technicians will craft your trays to your exact specifications. As soon as your trays arrive in the dentist's office, you can begin wearing the first tray in your series. You will wear each aligner for about two weeks before moving to the next tray in the series. The gentle force from the smooth plastic appliances will gradually reposition your dental arches. 
You can remove the aligners to eat but should wear them 20 to 22 hours a day for optimal results. It is also important that you remember to brush your teeth during your treatment. Your Invisalign dentist will provide you with a detailed plan for treatment, including how long you should wear your aligners each day. To achieve the best results, you must follow this plan as closely as possible.
Invisalign treatment time is different for each patient. However, on average, Invisalign treatment takes 6 to 18 months. After you complete treatment, you will need to wear a retainer to maintain your results. You can read more about how to maintain your teeth after braces or Invisalign here.
Choosing an Invisalign Dentist to Straighten Your Smile
It is important to choose a dentist that specializes in Invisalign treatment. Not only will this provide you with the best experience during treatment but will also optimize your results. When you decide to pursue Invisalign treatment, you are entering into a long-term relationship with your dentist. You must be comfortable with and confident in the level of care they provide. With the help of your dentist, you can achieve a healthy, straight smile through Invisalign treatment!
Thank you for reading Modern Dental Hygiene! You can find more helpful oral health tips here.