Whitening Your Teeth With Customized Porcelain Veneers
With so many cosmetic dentistry services available today, there are virtually endless ways to achieve the smile of your dreams. But, what happens when you invest time and money into a service, only to receive disappointing results down the road? For example, what if your porcelain veneers start to become dull and discolored? This is a problem that many patients face after having their porcelain veneers for several years. 
Can porcelain veneers be whitened? No, porcelain veneers can not be whitened using traditional teeth whitening methods. However, because porcelain is resistant to staining, serious discoloration is often not a concern. Fortunately, there are several ways to preserve and protect the bright white color of your porcelain veneers, allowing them to remain white for years to come. 
In this post, we will discuss some of the most important and interesting facts about porcelain dental veneers. We will also share some tips for whitening your porcelain dental veneers should you feel they are becoming dull or discolored.
What Are Porcelain Dental Veneers?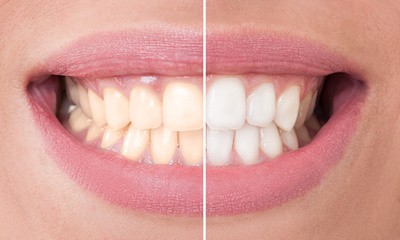 Chips, stains, cracks, and misaligned teeth can affect your overall appearance and your self-esteem. Customized porcelain dental veneers can help you achieve the smile you have always wanted. Using an advanced dental technology, your cosmetic dentist will carefully plan your porcelain veneers to address your unique goals. 
Porcelain veneers are thin shells that are carefully fabricated using state-of-the-art materials These thin shells are permanently attached to the front of your tooth, instantly transforming your smile! 
As a cosmetic treatment, porcelain dental veneers can conceal a variety of aesthetic and structural blemishes including the following:
Teeth with an unusual shape or worn edges
Disproportionately short or narrow teeth
Small gaps in your smile
Stains, especially internal discoloration that will not respond to whitening treatment
Minor orthodontic issues, such as slightly rotated or crooked teeth
Porcelain dental veneers do require an investment both of finances and time. While veneers are not a permanent solution, they will last up to 15 years with proper care and maintenance. Once you decide to invest in porcelain veneers, you will be required to replace them once they wear down. This is due to the fact that a significant amount of enamel must be removed from your natural tooth, leaving the tooth susceptible to decay and disease without the protection of the veneer.
How to Whiten Stained Porcelain Veneers
While traditional teeth whitening methods do not work on porcelain veneers, there are a few options for individuals who wish to brighten their smiles. It is important to note that, if you have veneers, over-the-counter teeth whitening products will not be effective. In fact, some of the ingredients used in whitening products could even cause unnecessary wear and tear to your porcelain veneers.
Brush Your Veneers Twice a Day
The best way to whiten and maintain your porcelain dental veneers is to brush your teeth twice a day. Firm toothbrush bristles can harm the porcelain, causing your veneers to appear dull. For this reason, you should opt for a soft bristled toothbrush. In the same way, toothpaste with baking soda can cause abrasions to the surface of your teeth. Refrain from brushing your teeth with toothpastes that include this ingredient.
While porcelain veneers are resistant to stains, it is still wise to brush your teeth after enjoying food or drink that causes staining. This will also help your surrounding teeth remain white and bright! 
Make Regular Dental Cleanings a Priority
By far the best way to maintain the whiteness of your teeth is to make regular dental cleanings with your dentist a priority. Plaque easily accumulates on the surface of your teeth, causing them to appear dull and discolored. The only way to fully remove this plaque is to have a professional dental cleaning.
Additionally, regular dental cleanings and exams are the best way to ensure that your teeth are healthy. While veneers prevent cavaties from impacting the surface of the tooth, the remainer of the tooth is still exposed to decay and disease.
Replace Your Porcelain Veneers 
Even with the best care and maintenance, porcelain dental veneers begin to wear out overtime. If your porcelain veneers were not of the best quality, or if you have been lax in your maintenance routine, you may need to replace your veneers altogether. If you fear it may be time to invest in a new set of veneers, it is best to schedule a consultation with your cosmetic dentist.
Benefits of Porcelain Dental Veneers
There are many benefits to investing in porcelain dental veneers. Porcelain veneers are one of the best ways to entirely overhaul your smile. Veneers can quickly address misalignment, discoloration, or other imperfections in your smile. While porcelain veneers are not a permanent solution, they do provide a much more long-term solution when compared to other services such as professional teeth whitening services.
Are You a Candidate for Porcelain Veneers?
To receive porcelain veneers, it is important that you have structurally sound teeth and good dental health. During your intial appointment, your cosmetic dentist will thoroughly examine your teeth to determine your candidacy for veneers. If needed, they will take intraoral pictures to evaluate current decay and dental erosion. 
If your teeth have suffered from damage of any kind, you may qualify for veneers after appropriate restorative care. However, if your dentist determines that porcelain veneers are not the best treatment for you, there are other alternatives such as dental bonding or crowns.
Alternatives to Porcelain Veneers for Whiter Teeth
Many people believe that porcelain veneers may be the only way to achieve the drastic whitening results they are hoping for. This, howeer, is simply not true! There are several other alternatives for achieving whiter teeth without the use of porcelain dental veneers.
Professional In-Office Teeth Whitening
If you are considering porcelain veneers strictly for whiter teeth, you may consider professional teeth whitening services. In-office teeth whitening through your dentist is not only less expensive that dental veneers but also much less invasive. 
With advanced dental technology, dentists are able to achieve better results that ever before through in-office whitening services! You can learn about getting your teeth whitened at the dentist here.
At-Home Whitening Solutions
If your tooth discoloration is not advanced, or if you are seeking a most cost-effective alternative, there are many at-home whitening solutions. Many dentists offer professional take-home teeth whitening kits. These kits, comprised of customized, professional products, allow you to achieve incredible results in the comfort of your own home.
There are, of course, countless over-the-counter teeth whitening products available. While these products may help to alleviate some of the surface staining, they will not be able to provide the same results as professional alternatives. Additionally, many over-the-counter whitening products can actually harm the enamel of your teeth and cause damage to your oral tissues. For this reason, it is important that you consult your dentist before beginning a whitening regimen using over-the-counter whitening products.
Planning Your Porcelain Veneer Treatment
Porcelain veneers are a cosmetic dentistry procedure. It is important to work with a dentist that specializes in this area in order to achieve the best possible results! During your initial appointment, your dentist will discuss your concerns and wishes, establishing a customized plan of care. If you decide that porcelain veneers are the best treatment for you, you will proceed with the treatment plan.
Once your dentist places your veneers, it is important that they double-check their fit. This will ensure that they not only appear as natural as possible but also that they do not disrupt the balance of your bite. When you are both satisfied with the restorations, your dentist will securely attach your veneers to your teeth. You will leave this appointment with a stunning smile that is everything you have ever wanted! 
In Conclusion
Porcelain dental veneers are a great way to improve the aesthetics of your smile! Whether you are struggling with misalignment, discoloration, or other cosmetic issues, veneers can be an effective solution. Although porcelain veneers are stain-resistant, it is important to practice proper care to minimize damage or dullness. While you can not use traditional teeth whitening solutions on veneers, there are a number of ways to brighten your veneers.
Additionally, if you are considering this cosmetic procedure simply for its whitening properties, you may consider other alternatives such as professional in-office teeth whitening. With so many solutions, products, and services on the market, you can quickly and easily achieve the smile of your dreams! 
Thank you for reading Modern Dental Hygiene! You can find more oral health tips here.