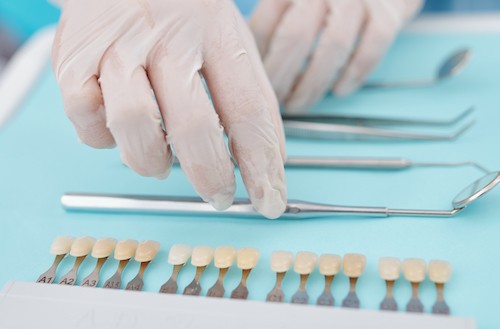 30 Apr

How Do I Clean Porcelain Veneers?

Veneers are thin shells of porcelain that attach to the front of your teeth to cover cosmetic blemishes. Our team will carefully plan your treatment to achieve your desired results. Your veneers will be made from strong, durable porcelain that will match the shade and shine of your smile.

Fully Customized Porcelain Veneers Can Transform Your Smile

Chips, stains, cracks, and misaligned teeth can affect your overall appearance and your self-esteem. The doctor and his team can place customized porcelain veneers at his their practice to help create the smile you have always wanted. He will use advanced design software to plan your veneers and address your particular goals. Our partner lab will then carefully fabricate the thin shells from state-of-the-art materials. Once attached to your teeth, veneers can transform your overall appearance.Fully Customized Porcelain

Veneers Can Transform Your Smile

Veneers are very thin shells of porcelain designed to match and enhance your smile. This cosmetic treatment can conceal a variety of aesthetic and structural blemishes, such as:
Teeth with an unusual shape or worn edges
Disproportionately short or narrow teeth
Small gaps in your smile
Stains, especially internal discoloration that will not respond to whitening treatment
Minor orthodontic issues, such as slightly rotated or crooked teeth
Good Dental Health
To receive veneers, it is important that you have structurally sound teeth and good dental health. Your dentist will thoroughly examine your teeth to determine your candidacy for veneers. If needed, he can take intraoral pictures to evaluate current decay and dental erosion. If your teeth have suffered from damage, you may qualify for veneers after appropriate restorative care. If porcelain veneers are not the best treatment for you, your dentist may recommend a different procedure, such as dental bonding or crowns.
When your veneers are back in we'll double check their fit. Not only will your dentist consider their appearance. they'll also make sure that they do not disrupt the balance of your bite. When you are both satisfied with the restorations, your dentist will securely attach your veneers to your teeth. You can leave this second appointment with a stunning, transformed smile.