Best Misaligned Teeth Treatments
Growing up with misaligned or crooked teeth can be a confidence breaker. However, there are now excellent, innovative treatments to correct your teeth and get the smile you always wanted. Having grown up with misaligned teeth as a young person and having to wear traditional braces for a few years, I decided to research and discover if there are new treatments for misaligned teeth that will get the same results.
So what are the top modern treatments for misaligned teeth? According to the dentists at Dental Associates of Athens, there are many alternatives to traditional braces! You are sure to find something that will meet your needs and fit your budget.  To correct misaligned or crooked teeth, your orthodontist can offer you:
Clear Aligners (for example, Invisalign)
The Damon System of Braces
Ceramic Braces
Lingual Braces
Dental Implants
Dental Bonding
Many of these procedures take less time and money than conventional braces. In this post, I will discuss the pros and cons of these treatments, why our teeth get crooked, how these treatments can fix our teeth, the costs of treatment, tests the orthodontist will perform to diagnose misaligned teeth, and the problems that come with misaligned teeth.
Misaligned or crooked teeth can be corrected. You can have the smile that you have always wanted.
What Are the Best Treatments For My Misaligned Teeth?
There are many treatments for misaligned or crooked teeth. In times past, the only remedy for misaligned teeth was conventional braces. Regular braces are still available, but there are many more innovative alternatives that may benefit you and attain the same or better result.
Invisalign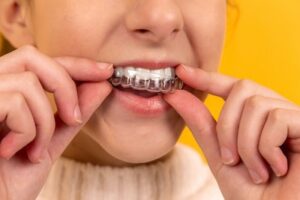 One of the most popular newer treatments for misaligned teeth is clear aligners. Clear aligners are things like Invisalign. Clear aligners are invisible or transparent removable aligners.
These aligners are clear trays custom-made to straighten your teeth. Clear aligners are generally worn for a certain time period daily (usually 20-22 hours).
Then trays are replaced every one – two weeks. You only take the aligners out when eating or cleaning your teeth. You typically wear the aligners for six to eleven months.
Damon System Braces
Another option is the Damon System braces. This is a type of self-ligating braces where you do not need elastic or metal ties on your braces. This type of braces allows you to see the orthodontist less frequently since frequent adjustments are not required.
Ceramic Braces
Ceramic braces are an option. Ceramic braces are also clear and work similarly to traditional metal braces. The only difference is that they blend with your natural tooth color.
Lingual Braces
Another innovative option you could try is lingual braces. Lingual braces are custom-fit braces that attach to the backside of your teeth.
Porcelain Veneers
Porcelain veneers have become a great option to fix the appearance of misaligned teeth. Veneers do not actually straighten your teeth. However, they give the appearance of straight teeth.
Dental Implants
Dental implants may be an option. The doctor creates new teeth to replace the misaligned or crooked teeth when you get dental implants. This is a more aggressive, intensive, and lengthy process.
Dental Bonding
Lastly, you can try dental bonding to correct your teeth. In dental bonding, tooth-colored resin material bonds to your teeth in a way to repair, improve appearance, change shape, or close the spaces between your teeth.
Do I Have Misaligned Teeth?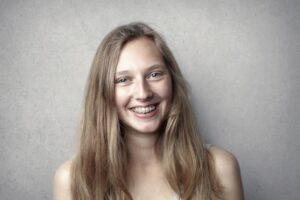 For some, this might be your first question. At times, we do not realize how misaligned or crooked our teeth might be. Misaligned teeth might mean different things to different people.
Specific characteristics accompany misaligned teeth. If your teeth are misaligned, you might have crowding or overlapping teeth. 
This is when teeth do not look like they have enough room to fit in your mouth.
Jaw Misalignment
Another type of misalignment can be a jaw misalignment or crossbite. A crossbite can involve a singular or group of teeth that rest on the inside of the lower teeth. A crossbite is usually found in the front or sides of your mouth.
Misaligned Midline
A misaligned midline is another source of misaligned teeth. In this case, the center areas between the front upper and lower teeth are not in alignment.
Open Bite
An open bite in another form of misaligned teeth. This is when there is a space in the front part of your teeth when the back molars touch.
Overbite
Having an overbite is also a type of misalignment. This is when the upper front teeth extend over the bottom lower teeth. This is a widespread issue that people seek treatment for.
Underbite
You can also have an underbite which is the opposite of an overbite. In an underbite, the lower teeth cover the upper teeth, also caused by jaw misalignment. Other issues that denote misaligned teeth are having space between teeth and protruding teeth – realizing that you have misaligned teeth and that there is a treatment that can correct it is best for your dental hygiene and health.
Why Are My Teeth Misaligned?
There are a few simple reasons why you or a loved one might have misaligned teeth. The most common reason for misaligned teeth is genetics. If you have family members who also have issues with misaligned or crooked teeth, this could be where your misalignment comes from. I
f this is the case, you are also more likely to have these problems. A preventable cause of misalignment includes certain childhood habits. These habits include thumb sucking, tongue thrusting, breathing through your mouth instead of your nose, and extended use of pacifiers/bottles in early childhood.
Other reasons for misaligned teeth include a misaligned or smaller jaw. If you have a small jaw, there is not enough room for teeth to align appropriately, causing crowding and other issues. Having a misaligned jaw will cause your teeth to not appear straight.
Lastly, injury or missing teeth can be a cause of misaligned teeth. This is especially important if the injury or unintended tooth loss occurs in childhood. Missing teeth can cause the teeth to grow crooked or cause the adult teeth to shift. There are many reasons why your teeth might be misaligned or crooked.
Reviewing these reasons tells us that it is best to begin taking care of your teeth during your childhood years to avoid any problems when you become an adult.
How Do Orthodontic Treatments Fix Your Teeth?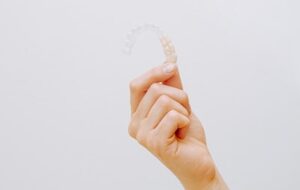 It is important to have straight teeth. It is not just for cosmetic purposes. Having straight teeth helps your dental hygiene and oral health, pain issues, sleep apnea, and undue teeth friction leading to teeth chipping and cracking- not to mention your cosmetic appearance and confidence.
Orthodontic treatments use methods based on the type of misalignments being addressed. These methods use physics principles to cause teeth to move into place over time.
The pressure orthodontic appliances apply to teeth causes them to move and stay in place.
Also, as part of treatment, once teeth are correctly aligned, a good orthodontist will give you tools to keep your teeth straight, such as retainers.
Related Questions
What are the costs of treatments to fix misaligned teeth?
Dental treatment costs can range based on your location, doctor's experience, and type of treatment, among other things. Your orthodontist will discuss with you your options. However, you can expect to pay approximately $2,500-$8,000 for traditional braces.
Clear aligners range between $1,200 – $8,000. While dental bonding can cost from $250-$1,500 per tooth, veneers are $470- $2,500 per tooth, and dental crowns are $300 – $3,000 per tooth. While direct-to-consumer orthodontics start at approximately $2,000.
However, prices vary based on the dental product and level of professional oversight. Most dental offices have treatment financial plans, and certain treatments can also be covered by insurance.
What type of tests should I expect the orthodontist to complete when I visit them to correct misaligned teeth?
The orthodontist will most likely analyze your teeth using various methods such as x-rays, teeth impressions, and multiple photographs of your face. This will help them to determine what is the best method of treatment. Through x-rays, the orthodontist can see the position of your teeth and roots.
They can also examine the relationship between your teeth and jaw through x-ray technology. Photographs will help the orthodontist visualize the alignment of your teeth concerning your jaw and head. Lastly, impressions of your teeth are helpful to give the orthodontist an exact copy of your teeth. These methods are beneficial to design the best treatment plan to get your teeth in perfect alignment.
Do I need to visit an orthodontist to get my teeth straightened?
Modern technology has allowed online methods to help individuals attain straightened teeth. These methods are considered direct-to-consumer. There are many alternatives to regularly visiting an orthodontist's office to get help achieving straight teeth.
However, many of these methods have dental or orthodontic oversight. There are no dental appliances that straighten your teeth that do not have some type of professional oversight. The amount of oversight you would like will depend on your options to straighten your teeth. However, the less experienced oversight you have, the less recourse you will have if something goes wrong with your teeth straightening. It is best to see a qualified dental or orthodontic professional to diagnose and treat your teeth misalignment issues.