What Does a Water Pick Do?
A water flosser is a type of oral irrigator that shoots water at your teeth to remove food particles. Water flossers are viable options for people who have trouble with Traditional flossing, which uses string-like material to thread between their teeth, is available in corded and cordless options. The main difference between the two is that the former comes with a power cord. They also come with different speeds or settings for controlling water pressure levels. Other features to note are an on/off switch, a pressure control switch, and a water reservoir. How Does It Work?
Water flossing removes food trapped between your teeth and the germs that remain there before they harden into plaque. Your toothbrush can't reach those tiny areas. Gum disease and bleeding may also be reduced by water flossing.

Directions
A water flosser should not take the place of a toothbrush or traditional flossing. You should still brush your teeth twice a day, although you may use the water flosser before or after.
The reservoir needs to be filled with lukewarm water. Insert the flosser tip in your mouth. Now, you lean over the sink to prevent a disaster.
Turn it on and begin cleaning. Spray by holding the handle at a 90-degree angle to your teeth. The water comes out in steady bursts, cleaning between your teeth.
Begin at the front of your mouth and move toward the back. Concentrate on the gumline, the tops of your teeth, and the gaps between each tooth. Remember to pay attention to your teeth's back as well.
Think about using a water flosser, if dental flossing is difficult for you. A water flosser might be beneficial if you have braces or other dental work like fixed or permanent bridges. They may help individuals suffering from periodontal disease or severely dry mouths. If you're considering switching to a water flosser or adding it to your daily routine, talk to your dentist. It might be easier for kids or teenagers who wear braces.
Here Are The Top Electric Water Picks For 2022
 The newest dental flosser is upgraded with 5 settings of water pressure(range from 20-110psi). This design allows you to customize your teeth cleaning experience. Another outstanding breakthrough is: The gravity ball added at the end of the tube ensures water can come out completely no matter what directions the machine leans when flossing. IPX7 waterproof design is adopted for both internal and external of the machine to provide dual protection, which prevents leakage and allows the water flosser to be used safely for shower in the bathroom. A rechargeable oral irrigator with a powerful 2500Mah lithium battery can last for 10-15 days once fully charged. The USB interface charging applies to a power bank, phone charger, PC.etc. The 360°rotatable nozzle allows you to easily clean areas that are difficult to reach and prevents tooth decay, dental plaque, dental calculus, gingival bleeding, and dental hypersensitivity. Cordless and lightweight features make it ideal for travel and a small bathroom.100% refund guarantee within 30 days and replacement guarantee within 12 months to ensure your 100% satisfaction.
Review:
I was skeptical when my dentist recently recommended this item, thinking it was just another dental gadget destined for the trash heap. But no, turns out this is a must-have, so much so that I've purchased one for each of my adult children. Hint: use warm water with a little antibacterial mouthwash added in, and keep your mouth open right over the sink.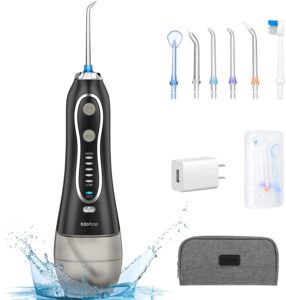 Brushing alone is not enough! The Waterpik Cordless Advanced Water Flosser provides a unique combination of water pressure and pulsations to clean deep between teeth and below the gum line, removing plaque and debris that traditional brushing and flossing can't reach. It is the first product in its class accepted by the American Dental Association (ADA). The Waterpik Cordless Advanced Water Flosser is a great solution when you want the convenience of cordless water flossing. Rechargeable, portable, and with an extra quiet design, it's perfect for use in smaller bathrooms or travel. The Cordless Advanced includes 3 pressure settings allowing you to personalize your water pressure intensity. It also features a waterproof design for use in the shower, 4-hour rapid charge, and an easy-to-fill reservoir. Backed by a 2-year manufacturer's limited warranty, see product manual for details.
Review:
This wireless Waterpik is easy and convenient to use. A few weeks ago the battery stopped holding a charge. I'd use it for less than a minute and it would be dead. Today I called Waterpik customer service and was advised to disconnect the charger from the device then hold in the power button for 10 seconds then release it. Alex at Waterpik customer service said that this would rest the battery. She advised me to charge for 6 hours and report back to her whether that solved the problem. It did! Very pleased with the solution.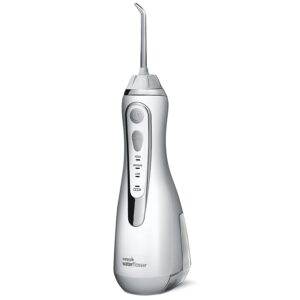 Brushing and flossing are now possible with one convenient design. The Waterpik Complete Care 9.0 Sonic Electric Toothbrush + Water Flosser features a new ultra-compact size that saves counter space and power outlets. The included Triple Sonic Toothbrush provides 3 cleaning modes for a superb brushing experience, while the Water Flosser gets deep between teeth and below the gum line to remove plaque and debris that brushing alone misses. And it helps prevent tooth decay and future dental work. It's also perfect for anyone with braces or implants, and those with crowns, bridges, and veneers. Complete with 10 water pressure settings for gentle to maximum cleanse, 5 water flossing tips, 2 brush heads, toothbrush travel case, tip storage case, and 2-year warranty. Waterpik Water Flossers are clinically proven to remove 99.9 percent of plaque from treated areas and are 50 percent more effective at improving gum health vs. string floss. Reservoir capacity: 22 Ounces (651 ml).
Review:
I have been waiting a while to review this since I felt that the true performance should be evaluated on my next trip to the dentist. I'm not big on flossing but my hygienist said I had to do more. I like that this lets me clean between my teeth with less effort, it is quite refreshing. On my last trip to the dentist, the hygienist said that my gums were much healthier than they were last time I visited (i.e. just before I bought this device). A toothbrush works well and is a nice little setup Overall quite happy with the performance, and price.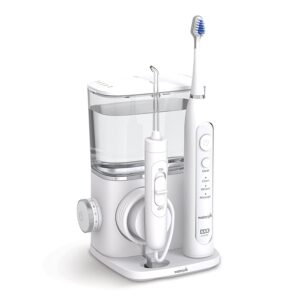 The Waterpik ION Professional Cordless Water Flosser provides maximum performance with cordless convenience. Because there is no cord clutter or outlet needed during use, you can place ION wherever it fits best on your countertop. And with a 30% smaller size than traditional electric plug-in models, it is exceptionally compact and stores easily. ION delivers full-size cleaning performance and pressure, and its rechargeable lithium-ion battery lasts up to 4 weeks per charge. It also features On/Off water control on the handle, 90 seconds of water capacity, a convenient magnetic handle cradle, and a USB charger. ION includes 7 flossing tips for a variety of dental needs, 10 pressure settings. ION is easy to use, effective and accepted by the American Dental Association (ADA). It removes up to 99.9% of plaque from treated areas and is up to 50% more effective for improving gum health vs. string floss.
Review:
This is my first Waterpik and I'm hooked on it. It has just become part of my routine with brushing teeth and I feel my teeth/gums are already healthier. If you are thinking about this purchase, think no more and buy it.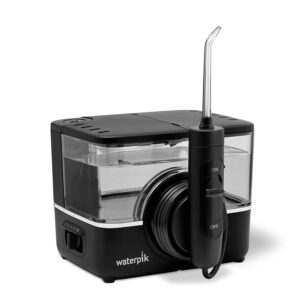 5. Waterpik Complete Care 5.0
 Complete Care 5.0 provides both Waterpik water flosser and sonic toothbrush technologies for complete oral care, making it easy to perform your daily dental health routine at home  Rechargeable Triple Sonic electric toothbrush features 3 modes: Clean, Whiten, and Massage with an advanced brush head design  The water flosser features 10 pressure settings, 22-ounce reservoir; removes up to 99.9% of plaque from treated areas and is up to 50% more effective than string floss for improving gum health  Space-saving design combines more effective brushing and flossing in one device and uses just one power outlet
Review:
Effective and useful for oral health. Complements flossing and recommended by my dentist. The brush comes with a small travel case for on the road but you'll need to know the brush cannot be recharged by itself. I don't yet know how long it will last on a single charge. Once I determine this I'll update my review.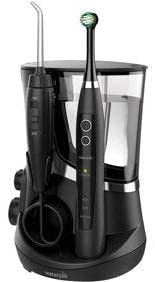 Check Price