Ways Invisalign Can Improve Your Smile
With so many types of dentistry available today, it can be difficult to know which type of treatment would be most beneficial for your unique situation. Many people have had great results through Invisalign treatment, a type of orthodontic treatment that can help with a variety of dental concerns. 
So, what does Invisalign help with? Of course, the primary reason people pursue Invisalign treatment is to realign their smiles. Invisalign can help correct gaps in the teeth, crooked teeth, or teeth that have shifted out of their original position. Invisalign can also help correct malocclusions or problems with your bite such as a crossbite, overbite, or underbite. 
In many ways, Invisalign treatment is similar to traditional braces. However, Invisalign treatment also offers many other benefits that are unique to this form of dental care. In this post, we will discuss some of the ways Invisalign can improve your smile as well as the unique benefits of this treatment. 
What is Invisalign?
Invisalign is a form of orthodontic treatment that is used primarily as an alternative to traditional braces. Invisalign treatment uses a series of clear aligner trays that subtly and gently shift your teeth into their ideal alignment. 
At the start of your Invisalign treatment, your Invisalign dentist will create a plan for your care that helps to address your current dental concerns. Invisalign is most commonly used to treat the following conditions:
Crooked Teeth
Small Gaps
Overlapped Teeth
Rotated Teeth
Crowding
Underbites
Overbites
Crossbites
As you progress through your Invisalign treatment, your dentist will provide you with a series of clear aligner trays that you will wear for the majority of the day. Unlike traditional braces, you remove the Invisalign trays to eat, drink, or perform oral hygiene tasks. Most individuals achieve a straighter, healthier smile in 6-18 months with the help of Invisalign. Learn more about how Invisalign works here.
How Does Invisalign Improve Your Smile?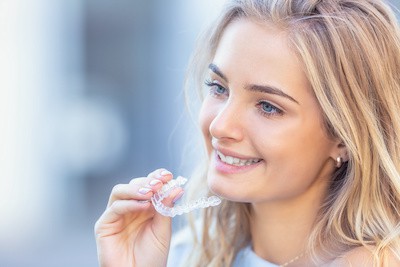 Invisalign treatment is customized to the unique needs and concerns of each patient. Are you frustrated that your teeth are no longer perfectly straight? Maybe your mild malocclusion is causing uneven wear and tear on your teeth. Whatever your unique oral health concerns, Invisalign works to carefully and slowly shift your teeth into an ideal position. 
Invisalign Straightens Misaligned Teeth 
Perhaps the most common reason individuals pursue Invisalign treatment is to straighten misaligned teeth. Even patients who previously had traditional braces in their adolescent years may experience shifting as they continue to mature. However, Invisalign can also help straighten your teeth even if you have never been under the care of an orthodontist. 
Using a series of clear aligner trays, your Invisalign dentist will carefully coax your teeth into their ideal position. For most patients, this process takes between 6-18 months depending on the severity of the misalignment.
It is important to note that misalignment impacts more than just the aesthetics of your smile! When your teeth are crooked or misaligned, you are unable to properly clean the surface of each tooth. This makes you more prone to developing tooth decay or gum disease, problems that could've been avoided with proper care. 
Invisalign Corrects Issues With Your Bite
Invisalign can also help correct mild to moderate malocclusions. Malocclusions, or problems with your bite, can cause discomfort and pain. In some cases, they can lead to uneven wear and tear on your teeth or other oral health concerns. Some of the most common forms of malocclusion include crossbites, overbites, and underbites. 
While Invisalign may not always be the most effective form of treatment for malocclusions, it has provided incredible results for hundreds of individuals.
Invisalign Can Improve Your Face Shape
Did you know that your teeth affect much more than just your smile? Misalignments or malocclusions may lead to a change in your face shape or structure. Through Invisalign treatment, your orthodontist can improve the shape of your face, preventing drooping or other aesthetic concerns.
In addition to aesthetics, realigning your smile may help you speak more clearly, increase your confidence, and enjoy the foods and beverages you love!
Benefits of Invisalign Treatment
Invisalign treatment is certainly not cheap. Most patients pay around $5,000 for Invisalign treatment. However, there are countless benefits to Invisalign that make the cost well worth it. Here are just a few of the many benefits of Invisalign treatment. 
Invisalign is Highly Effective
Invisalign treatment almost seems too good to be true! However, this is not the case. Invisalign is highly effective in correcting many of the same issues as traditional braces. However, to achieve optimal results, you must wear your aligners as directed. 
Additionally, it is recommended that you continue to wear a retainer as directed by your dentist to preserve the straight smile provided through Invisalign. By doing so, you may continue to enjoy the results of Invisalign treatment for the rest of your life.
Invisalign Offers Great Versatility
It is no secret that traditional braces, especially braces for adults, are rather limiting in many ways. Traditional braces are bulky and may prove to be an obstacle in professional settings, depending on the industry in which you work. 
For example, professional musicians may be limited in the instruments they can play with traditional braces. However, with Invisalign, the aligners can be removed for short periods of time. This provides the individuals with versatility and the ability to enjoy their everyday habits, routines, and pastimes. 
Invisalign is Virtually Invisible
As mentioned above, traditional braces are bulky and hard to hide. While this may not prove to be a problem, it often prevents adults from pursuing the straight, healthy smile of their dreams! Since Invisalign is virtually invisible, you can confidently continue through life, uninhibited by bulky brackets or metal wire. 
Invisalign is Often Faster Than Traditional Braces
Many times, the thought of dedicating nearly two years of your life to traditional braces is overwhelming. Especially for adults who move frequently, it is important to pursue a quicker option! 
While your individual treatment time will vary depending on the severity of your misalignment, most Invisalign treatments are complete within one year. Learn more about how to straighten your teeth quickly here.
Invisalign Allows Your to Maintain Good Oral Health
Although it is important to maintain good oral health regardless of the orthodontic treatment you pursue, traditional braces often present a challenge in this area. Because Invisalign trays are removable, you can maintain your oral health habits and routines. In fact, some individuals are even able to whiten their teeth while using Invisalign!
Whether you choose to pursue traditional brace or Invisalign treatment, it is important to follow your orthodontist's recommendations for proper oral care and hygiene. Many dental health professionals recommend using a waterpik to remove teeth stains while you are under orthodontic care. 
Traditional Braces vs. Invisalign
So, if Invisalign is such an incredible form of orthodontic care, why do some people still choose traditional braces? It is important to understand that not every situation is the same. Whether due to financial limitations, personal preferences, or the severity of the misalignment, Invisalign may not always be the best option.
Invisalign Treatment Isn't for Everyone
Invisalign treatment is highly effective in treating mild to moderate misalignments or malocclusions. However, traditional braces are often a better option for severe cases of misalignment or malocclusion. When you meet with your orthodontist to discuss treatment options, they will provide you with a plan of care that is most suited to your needs. 
Invisalign Treatment is More Expensive
Another reason why an individual may opt for traditional braces over Invisalign is that Invisalign is undoubtedly more expensive. Most Invisalign treatments cost around $5,000. Oftentimes, dental insurance does not cover this procedure. Traditional braces, on the other hand, may be covered by your dental insurance plan. Traditional braces typically cost anywhere between $1,500 to $5,000. 
As you select an orthodontic treatment that is best suited for your needs and budget, it is important to discuss all of your options. For many adults, however, the benefits of Invisalign outweigh the higher price point.
Finding an Invisalign Dentist Near You
As with any form of dental care, it is important to find a dentist that specializes in Invisalign treatment. Taking the time to find an experienced Alabama Invisalign Dentist is the best way to achieve optimal results. While some general dentists offer Invisalign treatment, you may need to find an orthodontist for this type of care. If you are searching for a dental provider that offers Invisalign in your area, ask your general dentist for a recommendation.
Invisalign treatment can not only provide you with a smile that is aesthetically pleasing but can also improve your confidence and quality of life. While it may be intimidating to spend a large amount of money on your oral health, it is well worth the investment in your future! With a bright, healthy smile, you will be ready to take on whatever life throws your way. 
Thank you for reading Modern Dental Hygiene! You can find more oral health tips here.