The Key Differences Between Dental Crowns & Dental Implants
Individuals in need of dental restoration due to a missing or damaged tooth are provided with a variety of options. Two of the most common restorative dentistry procedures include dental crowns and dental implants. While these services can be used in similar situations, they each have their own set of pros and cons. Understanding the differences between dental crowns and dental implants will allow you to make an informed decision regarding your dental care.
How are dental crowns different from dental implants? Dental crowns and dental implants are just as similar as they are different. In fact, in some situations, you may require both an implant and a crown. The primary difference between these two solutions is that while a dental crown can cover a root canal on your natural tooth, a dental implant replaces the tooth structure in its entirety, including the roots.
From cost differences to the time investment required for the service, there are many things you must consider before deciding between a dental crown or implant. Most of the time, your dental office will recommend one option more highly than the other. However, it is still wise to educate yourself on the restorative dentistry solutions that are available to you.
In this post, we will discuss the primary difference between dental crowns and dental implants. We will also take a closer look at both of these common restorative services and the benefits they provide.
Primary Differences Between Dental Crowns & Dental Implants
As we mentioned previously, there are countless differences as well as similarities between dental crowns and dental implants. The primary difference between these two services is the root of the issue (pun intended). 
A dental crown can be used to cover a tooth that has had a root canal performed. The root canal will remove any disease or decay in the tooth while leaving your tooth with its natural root system. The dental crown will carefully fit over the top of your natural tooth, leaving your natural tooth spacing and structure intact.
Dental implants, however, are used in situations where the entire tooth must be removed, roots and all. A dental implant is placed in your jawbone and acts as the root system for your new tooth. Dental implants primarily refer to the actual implant that is attached to your jaw. With a dental implant, you will still require a crown (or dental bridge) to cover the screw-like post.
Because a dental implant completely replaces your damaged tooth, it is considered a permanent solution. Dental crowns, on the other hand, will require eventual replacement within 10-15 years. As you can imagine, this makes dental crowns much more cost-effective at the time of treatment. However, it is important to consider the long-term cost of the treatment before making a decision regarding your care.
What Are Dental Crowns?
If you have a cracked, severely decayed, or weakened tooth, a crown can often preserve it. Dental crowns are tooth-shaped restorations that will fully cover damaged teeth, restoring both function and appearance. In some cases, a dentist may be able to provide a convenient same-day crown.
Same-Day Dental Crowns with CEREC
Traditional dental crowns often require multiple appointments for fittings and adjustments. If the dental lab has a high volume of work, it may take weeks before the permanent crown can be made and fitted. Because of this, many dentists are opting to use modern CEREC technology.
With CEREC crowns, tooth preparation, crown design, and bonding are done in one day. Using CEREC technology, your dentist can make perfectly-fitting crowns, bridges, veneers, inlays, and onlays right in their office. Because there is no waiting with CEREC crowns, you don't have to wear temporary restorations that may cause discomfort or inconvenience.
A decayed or damaged tooth affects not only the appearance but also the form and function of your smile. Left untreated, cracked, and worn teeth can cause further oral health complications. A crown is a dental restoration that can repair a damaged or decayed tooth, or support a tooth that has undergone a procedure such as a root canal or filling.
How Can You Benefit from Dental Crowns?
A dental crown is a cap that covers the visible part of a damaged tooth. Crowns can effectively preserve tooth structure and restore lost teeth. A dental crown can benefit your smile in the following ways:
Prevent a weak tooth from breaking.
Preserve a cracked tooth.
Restore a broken, worn, or misshaped tooth.
Restore a dental implant for a missing tooth.
The bonding material and cement that is used to apply crowns are of the highest quality, ensuring comfort and durability. Your crown will also be custom-made to guarantee that it matches the shade and size of your other teeth.
Dental Crown Procedure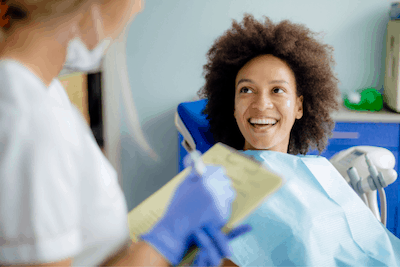 During your initial consultation for a dental crown, your dentist will examine your mouth to check for signs of gum disease or tooth decay. After your dentist has determined your candidacy for a crown, your treatment will begin with the doctor removing a small amount of enamel from the affected tooth to create space for the dental crown. 
Then, they will take detailed impressions of your smile, and send the mold to a dental lab that uses high-quality materials to craft your custom crown. If you are opting for a same-day crown, this process will be completed in the office as the dental team prepares your tooth for the crown.
If you are investing in a traditional dental crown, your dentist may attach a temporary restoration at this time. It typically takes two weeks to fabricate your permanent crown when using the traditional method. 
When your permanent crown is ready, you will return for your final appointment where the dentist will cement the crown in place. Your dentist will ensure that it feels comfortable and that it does not interfere with your bite alignment.
Why Choose Dental Crowns?
Dental crowns are an effective way to preserve and restore teeth affected by decay or damage. Using superior materials and advanced dental technology allows your dentist to deliver custom crowns that blend seamlessly with your smile.
CEREC dental crowns are becoming a popular alternative to traditional restorations. CEREC is an in-office system that uses CAD/CAM to design and create ceramic crowns in just a few minutes. Instead of a lab technician or ceramist who designs the crown by hand, the CEREC computerized milling unit carves the crown out of a block of porcelain.
Patients love that CEREC gives them a beautiful, permanent restoration so quickly – no return trips, temporary crowns, or messy impressions! CEREC technology is amazing and provides nearly undetectable restorations for a variety of patients. However, for some situations, a dental implant may be a better option for a patient's unique needs and concerns.
What Are Dental Implants?
Dental implants are often used for patients who are experiencing a more severe case of tooth decay or disease. In the simplest of terms, a dental implant is a surgically-implanted device that mirrors the form and function of your natural tooth roots. A dental implant is a screw-like fixture that is surgically placed in your jawbone. Once it is fully healed, this post is used to secure a dental crown, bridge, or another prosthetic device. 
Dental implants are a permanent restorative solution. Because they do not rely on a hallowed tooth structure that has undergone a root canal, dental implants are much more sturdy than other restorative dentistry options. 
How Can You Benefit from Dental Implants?
Although some situations may necessitate a dental implant to replace a tooth's natural roots, many individuals opt for this service over a dental crown. The primary benefit of a dental implant is that it is a one time service. Although it requires a greater financial investment at the moment, it will not require eventual replacement. Additionally, many patients have greater confidence in their new smiles knowing that the dental implant is secure.
Both dental implants and dental crowns provide a beautiful, refined smile and can easily correct a variety of oral concerns including cracked, decaying, diseased, or damaged teeth. Ultimately, it is important to discuss the various benefits of crowns vs implants with your dentist to determine which restorative service best suits your needs.
Why Choose Dental Implants?
If you have multiple teeth in a row that are in need of restorative care, dental implants may be a better choice. While dental crowns alone require you to have a root canal on multiple teeth before covering them with a crown, implants easily pair with a dental bridge to replace a span of teeth. This is not only less expensive but also provides a more natural-looking smile. 
Additionally, dental implants do not have any additional care requirements, unlike other forms of restorative dentistry. With dental implants, you can continue your oral hygiene routines such as brushing your teeth twice a day, flossing daily, and visiting your dentist regularly. This easy maintenance, coupled with the permanence of this solution, makes it a popular choice among a variety of individuals. 
Finding a Restorative Dentist in Your Area
Restorative dentistry has gained a poor reputation in some areas due to poor workmanship and dentists who are not passionate about their work. Whether you decide to pursue a dental crown, a dental implant, or another form of restorative dentistry, it is important to find a dentist who specializes in this area of care.
Any type of restorative dentistry procedure is an investment in not only your future but also your overall health. You must take the time necessary to find a dentist in your area that you fully trust. An experienced dentist will be able to help you weigh the differences between dental crowns and dental implants, choosing the right solution for your needs. 
Regardless of whether you choose dental crowns or implants, restorative dentistry can help you achieve the smile of your dreams. By pursuing dental crowns or dental implants, you can quickly restore the form, function, and beauty of your smile. Enjoy life with confidence once again!
Thank you for reading Modern Dental Hygiene! You can find more helpful oral health tips here.