Best Natural Solutions for Cleaning Dentures
Whether for cosmetic or structural concerns, thousands of individuals opt for dentures each year. Dentures can be a great way to achieve a natural-looking smile while restoring form and function lost due to missing teeth. Regardless of whether you have full or partial dentures, you will need to clean your dentures each day. There are many ways you can clean your dentures using both natural solutions and specialized cleaning products.
How do you clean dentures naturally? There are many ways you can safely and effectively clean your dentures using natural products and solutions. Some of the most common natural denture cleaning methods include hydrogen peroxide, white vinegar, or baking soda. Some people even use vodka for its disinfectant qualities! Alternatively, some products were created specifically for cleaning dentures which may provide more impressive results. 
Because dentures are a big investment, it is important to care for them properly. Before you choose to try a natural cleaning method for your dentures, it is best to consult your dentist to ensure that it will not damage your dentures. In this post, we will discuss how to determine if dentures are right for you. We will also take a closer look at the most common ways to clean dentures naturally should you decide to pursue this restorative dentistry procedure.
What Are Dentures?
Unlike outdated models, modern dentures provide a comfortable fit and natural look. Advancements in restorative dentistry have made it possible to create natural, lifelike dentures to replace missing teeth. Many dentists encourage patients with several missing teeth to consider dentures. 
Dentists that specialize in this area of restorative dentistry will carefully design a treatment plan, incorporating custom-made prosthetics to restore form and function to your smile. There are several different denture options available including full and partial dentures. Your local dentist will work closely with you to choose the option that best meets your needs.
Most dentists offer traditional and implant-supported dentures. They can also convert your removable restoration into an implant-supported prosthetic should you decide this is a better solution for your needs. Oftentimes, your dentist, in partnership with an oral surgeon, will use the All-on-4® method to provide implant-supported dentures with reduced impact to your jawbone.
Are Dentures Right for You?
If you are missing some or all of your teeth, dentures are a great restorative solution for your smile. Most dentists offer partial dentures, which can replace multiple missing teeth, even if they are not next to each other. Dentists also offer full dentures, which can replace an entire row of missing teeth in the upper or lower jaws, or both. Most patients are candidates for dentures, and these restorations are a great alternative for patients who are not eligible for dental implants.
Dentures Require Regular Cleaning & Maintenance
One aspect of dentures that individuals often fail to consider is that dentures require the same amount of care as your natural teeth. Just like your natural teeth, dentures accumulate plaque that must be removed. Additionally, dentures can become discolored or dull due to lifestyle choices or dietary habits. For this reason, you must commit to maintaining and cleaning your dentures just as seriously as you work to remember to brush your teeth.
Best Ways to Clean Dentures Naturally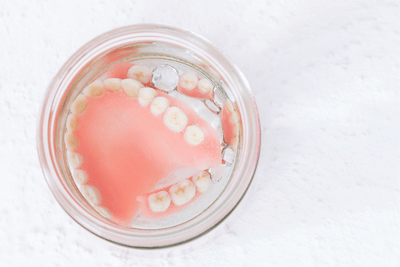 While there are countless denture cleaning solutions available, many individuals wish to try a natural denture cleaning solution. Fortunately, there are several options available for those looking for a home remedy for cleaning dentures. Many of the best natural solutions are similar to those recommended for disinfecting a toothbrush.
Clean Your Dentures With Hydrogen Peroxide & Baking Soda
Perhaps the most common way to clean your dentures naturally is with a combination of hydrogen peroxide and baking soda. As you are likely aware, these two products provide numerous benefits and appear often in oral healthcare products. 
To clean your dentures with this inexpensive alternative, simply dissolve 2 teaspoons of baking soda in a few drops of warm water. Once the baking soda is fully dissolved, add enough hydrogen peroxide to fully cover your dentures. Allow your dentures to soak in the solution each night, rinsing them thoroughly in the morning.
Clean Your Dentures With White Vinegar
While it may not have the most enticing smell, white vinegar is highly recommended by dental professionals for cleaning dentures. White vinegar is a natural disinfectant that also helps to protect your dentures from fungal growth.
To clean your dentures with white vinegar, simply combine equal parts of water and white vinegar in a class. Soak your dentures in this mixture overnight, rinsing them thoroughly in the morning.
While you are cleaning your dentures in white vinegar, mix one cup of water with two tablespoons of vinegar. Use this solution to rinse your mouth as you would use a mouthwash to eradicate the bad breath that is often associated with dentures.
Clean Your Dentures With Vodka
Although it is not highly recommended by dental professionals, you can use vodka to clean your dentures in a pinch. This natural disinfectant can be used to soak your dentures overnight, much like the other solutions. 
However, you must be especially vigilant about rinsing your dentures in the morning to avoid the transfer of any alcohol. This certainly adds a step to the process. Additionally, since vodka is by far the most expensive natural solution, it is not well-suited for long-term use.
Because your dentures are such a significant investment and asset to your appearance, it is important to treat them with great care. For this reason, you should consult your dentist before introducing a natural denture cleaning solution into your daily routine. Your dentist will be more than willing to recommend both natural and store-bought denture cleaning solutions. Remember, a clean smile is a happy smile! 
Customized Denture Treatment Plan
During a consultation with our team, your dentist will carefully evaluate your oral health to determine your candidacy for dentures. They will create a customized treatment plan, which may include extraction or periodontal treatments, in addition to your custom-made dentures. 
If an extraction is required, your dentist may recommend waiting up to eight weeks before placing your dentures to ensure your gums heal properly. In some cases, they may be able to provide qualified patients with immediate dentures.
Achieving a Natural Look With Dentures
To create your dentures, your dentist will take a series of highly detailed impressions of your gums. Your dentist will use these measurements to design your custom-made restorations. Together, you can choose the size, shape, and shade of the teeth, as well as the gums so that your dentures will complement your natural features. 
Generally, the replacement teeth are crafted from an acrylic resin, though porcelain options are also available. The base of your dentures will be made from high-grade plastic that is artfully tinted to match the shade of your gums.
If you are receiving a denture for your top dental arch, you may have the option to choose between a hard palate or an open palate. A hard palate uses natural suction to keep it in place, eliminating the need for a denture adhesive. This type of denture, however, will cover the entire roof of your mouth and can affect your ability to taste certain foods. 
An open palate uses denture adhesive to remain in place. After you and your dentist have decided on these various elements of your dentures, they will send the design to a dental lab for creation. Once your dentures are ready, you will return to the office so that your dentist can ensure they fit properly, feel comfortable, and have a natural appearance.
Benefits of Dentures
The greatest benefit of dentures is that they are custom-made, so they feel comfortable and look natural while restoring function to your smile. Modern dentures provide you with a better fit and lower the risk that they will slip out of place or feel uncomfortable. Dentures can also help prevent the appearance of sunken cheeks due to tooth loss. You can chew, speak, and smile with comfort and confidence.
Find a Dentist Specializing in Dentures
Unfortunately, dentures have earned a bad reputation for the unnatural appearance they often create. However, a dentist that specializes in restorative dentistry services such as dentures will be able to provide you with dentures that look, perform, and feel nearly identical to your natural teeth! 
The decision to pursue dentures is not something that should be taken lightly. After all, this is an irreversible process. Whether you are needing to replace one or several teeth, take time to interview several dentists in your area. 
Once you have received your dentures, you must commit to caring for them daily. Whether with a store-bought cleaning product or a natural denture cleaning solution such as baking soda or white vinegar. Proper cleaning will ensure that your dentures will look their best for years to come!
Thank you for visiting Modern Dental Hygiene! You can find more great oral health tips here.