While most children attend their bi-annual dental exams and cleanings, it is a habit that seems to disappear once individuals reach their adult years. Whether you attended the dentist as a child or not, the fear of possible discomfort during a dental cleaning prevents many from receiving the care they deserve. 
Does cleaning your teeth at the dentist hurt? Regular dental cleaning should not be a source of pain. Some individuals may experience slight discomfort. This, however, is due to a lack of proper oral hygiene habits causing inflammation. If you are experiencing intense pain during your tooth cleaning appointment, it is important to speak up or consider finding a new dental care provider.
From prior dental trauma, various sources of anxiety, and even common teeth cleaning myths, many things keep adults from receiving the dental care they deserve. Unfortunately, this often results in poor oral health, something that can lead to discomfort during dental cleanings. It is a vicious cycle that is seen far too often in dental practices throughout the country.
In this post, we will take a look at what happens during a dental exam and cleaning, identifying possible sources of discomfort. We will also share some steps to take if you experience unnecessary pain or discomfort while getting your teeth cleaned at the dentist.
Should Your Teeth Hurt During a Dental Cleaning?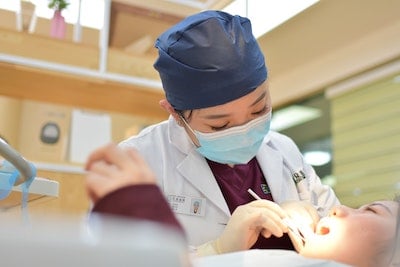 What is normal when it comes to dental cleanings? Should you experience pain? Is it normal for your gums to bleed? Because many adults do not visit their dentist regularly, they often have questions and concerns regarding their dental cleanings.
Although your regular dental cleaning should not cause pain, you may experience slight discomfort during portions of the exam and cleaning process. This is often due to poor oral hygiene or inflammation, both topics which should be addressed by a professional.
If you experience intense pain during your dental cleaning, you must speak up. In some cases, you may need to consider other options such as sedation dentistry or treatments for tooth sensitivity.
What Happens During a Dental Cleaning & Exam?
Knowing what to expect during your dental cleaning and exam can help to eliminate some of the stress and anxiety that you may experience. Each dental practice varies in the order in which they perform the steps of their cleaning and exam appointments. Here are a few of the things you can expect to happen during your next appointment.
Thorough Oral Health Exam
Your dental cleaning will begin with a thorough oral health exam. This exam is usually conducted by the dentist. Although, in some practices, dental hygienists may complete this step. During your dental exam, the dentist will look for signs of decay, inflammation, infection, or other concerns. They may also conduct an oral cancer screening during this time.
You should not experience any pain during the exam portion of your appointment. Sometimes a dentist will use tools to test concerning areas of your tooth. While this may be mildly uncomfortable, it will not be painful.
Remove Plaque & Tartar Buildup Using a Scaler
Once the dental exam is complete, the dental hygienist will use a small tool called a scaler to remove the plaque and tartar buildup from your teeth. They will systematically work their way through your mouth, cleaning the tops, bottoms, and sides of each tooth. 
If you visit your dentist regularly, this should not be an intense process as there will be less buildup of plaque and tartar. However, if you have not visited the dentist in several years, this portion of the appointment could be somewhat uncomfortable. Rest assured that the dental hygienist is carefully working to eliminate the plaque from the surface of your tooth. Doing so will not only improve the health of your smile but also the appearance of your teeth. 
Deep Clean Using Electric Toothbrushing Tool
After removing the plaque and tartar buildup from the surface of your teeth, the dental hygienist will deep clean your teeth. During this process, they will use a gritty toothpaste along with a high-powered electric toothbrush to thoroughly clean each tooth. 
This process should not cause pain although the "grinding" sound alone often makes patients uncomfortable. If you struggle with the sound of the toothbrushing tool, ask your dental hygienist if you can listen to music during this portion of the appointment.
Flossing 
Once your teeth are clean, the next step is to floss between each tooth. This process generally causes mild discomfort and may irritate if you do not floss at home. Many patients also experience bleeding during this portion of their appointment due to inflammation of the gums. 
While flossing may not be pleasant, it is the only way to truly clean between your teeth. Without flossing, you may develop tooth decay or gum disease due to excess plaque or debris. One way to eliminate the pain and discomfort you may experience during flossing is to make flossing at home a habit.
Daily flossing between appointments will not only eliminate inflammation in your gums but also make the experience during your dental cleanings and exams much more enjoyable.
After the flossing is complete, the dental hygienists will allow you to rinse your mouth using mouthwash. This will leave you feeling clean and refreshed! Your teeth are now clean and healthy, ready to serve you well for another six months.
Why You May Experience Discomfort During Teeth Cleaning
There are several reasons why you may experience discomfort during regular teeth cleaning at your dentist. Most commonly, discomfort or pain during your bi-annual dental cleanings is due to a lack of oral hygiene. 
Tooth Sensitivity
There are many possible causes of tooth sensitivity ranging from tooth decay to medications. If you experience tooth sensitivity while eating hot or cold foods, you may also experience increased discomfort during your dental cleanings.
If tooth sensitivity is a concern of yours, it is important to tell your dental care team so they can take steps to improve the sensitivity of your teeth. From diagnosing and treating tooth decay or disease to recommending toothpaste for sensitive teeth, there are many ways to improve this type of discomfort.
Poor Oral Hygiene Habits
Most patients who experience pain during their bi-annual dental cleanings and exams do not practice proper oral hygiene habits between appointments. This can lead to increased sensitivity, inflammation, and even infection. If your last dental cleaning was painful, work to establish healthy oral hygiene habits before future appointments. Both your dentist and your teeth will thank you! 
Tips for Improving Pain During Dental Appointments
If you are practicing proper dental hygiene and still experiencing pain during your dental cleaning appointments, here are a few tips.
Don't Be Afraid to Speak Up
Dental cleaning should not be painful! While some mild discomfort is to be expected, you must speak up regarding pain. Pain during a dental exam or cleaning may be a symptom of inflammation or decay that could create a more complex issue.
Consider Sedation Dentistry for Intense Procedures
If prior pain during dental procedures has created anxiety, it may be wise to consider sedation dentistry. Sedation dentistry is also a great alternative for patients who have extreme tooth sensitivity. While it may require more of an investment, it is important to receive the dental care you deserve.
Find the Right Dentist
Simply put, if your dentist is causing you unnecessary pain, find a new dentist! Not every dental care provider is suited for your preferences or concerns. By finding a Decatur dentist that caters to your concerns and needs, you can eliminate unnecessary pain during dental cleanings.
Schedule Your Dental Cleaning Today! 
Routine dental cleanings should not cause pain or discomfort. It is important to remain consistent with dental care and oral hygiene to achieve the smile of your dreams!