Best Options for Replacing Missing Teeth
Whether you have lost a tooth due to tooth disease, decay, or an accident, it can greatly alter your self-esteem and confidence. Not only can a missing tooth impact your confidence but it can also make it more difficult to enjoy your favorite foods and speak with clarity. For these reasons, as well as many others, dentists will recommend that you replace your missing tooth. Fortunately, there are many options for replacing missing teeth, allowing you to find a solution that fits both your needs and your budget.
What options do you have for replacing missing teeth? The most efficient, and often the most cost-effective solution for replacing missing teeth is to use a dental bridge. This appliance can be used to replace a gap left by one or several teeth. Other options for replacing missing teeth include dentures or dental implants, to name a few. 
When you wish to replace missing teeth, you must work with a restorative dentist that specializes in this area. Doing so will provide you with the best possible outcome for your smile, helping you achieve a beautiful, natural smile regardless of your past oral health.
In this post, we will discuss the various options for replacing missing teeth including dental bridges, implants, and dentures. By educating yourself on these topics, you will be able to make a more informed decision regarding how you wish to replace your missing tooth.
Dental Bridges: An Effective Solution for Missing Teeth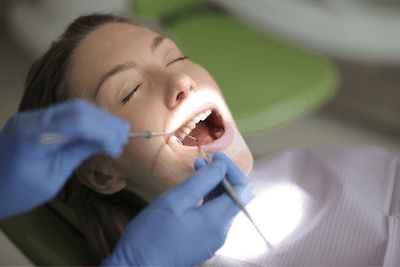 A dental crown is a cap that covers the visible part of a damaged tooth. Crowns can effectively preserve tooth structure and restore lost teeth. A dental crown can:
Prevent a weak tooth from breaking
Preserve a cracked tooth
Restore a broken, worn, or misshaped tooth
Restore a dental implant for a missing tooth
A dental bridge is made of several crowns fused and is designed to fill a gap in your smile. Your dentist and their team provide patients with custom-made dental bridges to replace missing teeth. These restorations can look lifelike and natural next to your other teeth while they restore function to your smile.
The bonding material and cement that is used to apply crowns at our practice are of the highest quality, ensuring comfort and durability. Your crown will also be custom-made to guarantee that it matches the shade and size of your other teeth.
Are You a Candidate for a Dental Bridge?
You are likely a candidate for a dental bridge if you are missing one or more teeth. Your dentist may offer both traditional and implant-supported bridges. A dentist can also convert existing traditional bridges into an implant-supported restoration for superior stability.
Benefits of Dental Bridges
Dental bridges offer a variety of both functional and aesthetic benefits. Missing teeth can affect the alignment of your smile. This can quickly lead to conditions that affect your bite and jaw alignment, such as temporomandibular joint (TMJ) disorder. 
Gaps of missing teeth can also affect your speaking ability and how you chew. By replacing these teeth using a dental bridge, a dentist can reduce your risk of TMJ disorder, periodontal disease, tooth decay, and bone loss, while improving your ability to speak properly. 
Both traditional and implant-supported bridges offer a great deal of comfort and stability to prevent your remaining teeth from shifting. By filling the gaps in your smile, your dentist can also provide support to your facial structures. 
This will prevent the appearance of sunken, sagging, and drooping facial tissues. With a natural-looking, lifelike restoration, you can smile with confidence, knowing your bridge is virtually indistinguishable from the rest of your smile.
Dental Bridge Treatment Process
During a consultation with your dentist, you will discuss your goals, carefully examining your teeth and gums to determine your candidacy for either a traditional or implant-supported bridge. Together, you will choose the type of material you would like to use for your bridge.
While metal options such as gold and silver are available, most patients prefer porcelain or zirconia options. These more modern bridge materials can be produced to match the shade of your surrounding teeth for a natural look.
If you are a candidate for a traditional bridge, your dentist will prepare your surrounding teeth by resizing and reshaping them to accommodate the dental crowns of the bridge. They will then take highly accurate impressions of your teeth and gums. 
These impressions are used to design and create a dental bridge. Your dentist will likely place a temporary restoration to protect your altered teeth as it can take up to two weeks for the dental lab to create your permanent bridge.
Once your dentist receives your permanent bridge, you will return to your dentist's office to finish the procedure. Using durable, safe materials, they will affix the bridge and the attached crowns to your surrounding teeth. Finally, your dentist will check to ensure that your bite is properly aligned, that your bridge feels comfortable, and that it looks natural.
If you opt for an implant-supported bridge, you will need to have dental implants surgically placed in your jaw. It can take three to six months to fully heal following this type of surgery. Once your jaw has healed fully, your permanent bridge is affixed to the implants with abutment pieces.
Other Alternative Treatments for Missing Teeth
While a dental bridge is an excellent way to replace missing teeth, it is not the right solution for every patient. Even if a dental bridge would solve your issue, you may wish to pursue alternative solutions depending on your unique situation. Fortunately, there are several other ways to treat missing teeth. Besides dental bridges, the two most common methods for replacing a missing tooth include dentures and dental implants.
Dentures to Replace Missing Teeth
Most patients choose to pursue dentures if they are missing several teeth. Dentures are a removable appliance that replaces your natural teeth. In the past, dentures have been known for their "fake" appearance and uncomfortable wear. However, due to modern dental technology, dentures are now made to closely resemble your natural teeth.
Individuals may choose to invest in dentures for their entire mouth. Others may opt for dentures for either the top teeth or bottom teeth, depending on where the missing teeth are located. Of course, dentures are irreversible as they require the remainder of your natural teeth to be removed. It is important to consider this decision carefully before committing to this route. If you decide to pursue this option, you must be prepared to clean your dentures naturally as you would your teeth.
For individuals who are missing several teeth due to health concerns, tragic accidents, or other situations, however, dentures are a great way to restore your smile. With a fresh, healthy smile, you will be ready to once again approach the world with confidence! 
Dental Implants to Replace Missing Teeth
Another option for replacing missing teeth is dental implants. This is often recommended if you are missing just one tooth or several teeth that are not located next to each other. To replace a tooth using dental implants, your dentist will surgically place a metal post into your jawbone. This screw-like post functions as the root system for your new tooth.
After your jaw has fully healed following the placement of the post, your dentist will cover the post with a dental crown or another prosthetic device. Dental implants are incredibly strong and serve as a permanent solution for missing teeth. However, if your dentist has concerns regarding your overall oral health, you may not be a candidate for this procedure.
Dental implants require optimal oral health and bone strength to properly function and provide the results you desire. Additionally, the process of replacing your missing tooth using a dental implant may be longer than other options available. For these reasons, as well as others, many individuals choose other, more time-efficient options for replacing missing teeth.
Regardless of the method you choose for replacing your missing teeth, your dentist may be able to recommend temporary fixes that allow you to continue living with confidence. This can be especially important to individuals who lose a prominent tooth in the front of their mouth. 
Because you want your new tooth to seamlessly blend into your natural teeth, it is important to take time to read reviews for the restorative dentist you are working with to make sure past patients have been satisfied with their smiles!
You can learn more about dental crowns vs. dental implants here.
What to Do If Your Tooth Falls Out
In some cases, you may be expecting your tooth to fall out due to decay or disease. Perhaps your missing tooth is the result of a dentist removing it to preserve the surrounding teeth or oral tissue. However, sometimes a tooth can fall out as the result of an accident or injury. This can be quite shocking and cause great alarm! Is a missing tooth considered a dental emergency? 
Much different from when a baby tooth falls out, losing a permanent tooth is considered a dental emergency. Because most emergency rooms are not equipped to handle this type of injury, it is important to contact a dentist that offers emergency care. If it is during business hours, contact your primary dentist to ask for advice or a referral if necessary.
If you can safely insert your tooth back into the socket, this will be the best way to preserve it until the dentist can treat you. However, this may be uncomfortable. You will need to exercise great caution to not swallow the tooth. If you are unable to save the tooth in this way, rinse the tooth using your own saliva or milk. Then immerse the tooth in a glass of milk until you reach the emergency dental clinic.
Having a missing tooth can be a stressful experience. With the help of your dentist, you can easily determine which method is best for replacing your tooth and restoring your bright, healthy smile!
Thank you for reading Modern Dental Hygiene! You can learn more about oral health and hygiene here.