Can I Put Mouthwash in a Waterpik? Exploring the Possibilities
Welcome to the comprehensive guide on the age-old question: Can I put mouthwash in a Waterpik? In this article, we'll delve into the dos and don'ts, providing you with expert advice and first-hand experiences. So, let's get started on this journey to a cleaner, healthier smile.
Can I Put Mouthwash in a Waterpik?
The Benefits of Combining Mouthwash and Waterpik
Mouthwash is a staple in many oral hygiene routines, known for its ability to kill bacteria and leave your mouth feeling fresh. When used in conjunction with a Waterpik, it can enhance your oral care regimen by reaching areas that traditional flossing might miss. This dynamic duo can provide a thorough clean, leaving your mouth feeling revitalized.
The Potential Drawbacks
While combining mouthwash and a Waterpik can be effective, it's important to exercise caution. Certain types of mouthwash may contain ingredients that are not meant to be ingested, even in small quantities. Additionally, some individuals may be sensitive to the active ingredients in mouthwash, which could lead to irritation.
Expert Advice: Choosing the Right Mouthwash
If you're considering incorporating mouthwash into your Waterpik routine, opt for an alcohol-free, antimicrobial rinse. These are generally safe for use in oral irrigators and provide the benefits of mouthwash without the potential drawbacks.
The Importance of Diligent Maintenance
To ensure the longevity of your Waterpik, it's crucial to clean and maintain it regularly. This includes thoroughly rinsing the reservoir, ensuring there are no residual mouthwash deposits, and following the manufacturer's guidelines for upkeep.

A Closer Look at the Benefits
Enhanced Bacterial Elimination
The combination of mouthwash and a Waterpik leads to a more potent assault on oral bacteria. Mouthwash, with its antimicrobial properties, works in tandem with the Waterpik's pulsating water streams to effectively eliminate harmful bacteria from your mouth.
Improved Gum Health
Using mouthwash in your Waterpik can contribute to healthier gums. The targeted water pressure stimulates blood flow, aiding in the reduction of gum inflammation and promoting overall gum health.
Fresher Breath, Longer
Mouthwash is known for its ability to combat bad breath, and when used with a Waterpik, it can lead to even longer-lasting freshness. The thorough cleaning action reaches areas that brushing and flossing alone may miss.
What to Look for in a Mouthwash for Your Waterpik
Selecting the appropriate mouthwash for use with your Waterpik is a critical step in ensuring a safe and effective oral hygiene routine. Here are some key considerations to keep in mind:
Alcohol-Free Formulas
Opt for alcohol-free mouthwashes. While alcohol-based rinses can be effective, they may not be suitable for use in a Waterpik. The alcohol content could potentially damage the unit over time.
Antimicrobial Properties
Look for mouthwashes that have antimicrobial properties. These formulas are designed to kill bacteria and combat bad breath, providing you with a fresh and clean feeling after each use.
Non-Irritating Ingredients
Some individuals may have sensitivities to certain ingredients commonly found in mouthwash. To avoid any potential irritation, choose a mouthwash that is free from harsh chemicals and known allergens.
Fluoride or Non-Fluoride
Decide whether you want a mouthwash with fluoride. Fluoride is beneficial for strengthening tooth enamel and preventing cavities. However, if you're concerned about ingesting fluoride, opt for a non-fluoride alternative.
Recommendations from Your Dentist
It's always a good idea to consult with your dentist or oral health professional. They can provide personalized recommendations based on your specific oral health needs and any existing conditions.
Consider Sensitivity
If you have sensitive teeth or gums, choose a mouthwash that is specially formulated for sensitive mouths. These options are typically gentler and less likely to cause discomfort.
Avoid Artificial Colors and Flavors
For those who are sensitive to artificial additives, consider opting for a mouthwash that is free from artificial colors and flavors.
Check for Allergen Warnings
If you have known allergies, carefully read the label to ensure that the mouthwash does not contain any substances to which you are allergic.
Check for ADA Approval
Look for mouthwashes that have been approved by the American Dental Association (ADA). This seal of approval indicates that the product meets specific safety and effectiveness criteria.
Consider Personal Preferences
Lastly, consider any personal preferences you may have. For example, you may prefer a minty flavor or a specific brand that you trust.
By taking these factors into account, you can confidently choose a mouthwash that complements your Waterpik routine, providing you with a comprehensive and effective oral care experience. Remember, oral hygiene is a highly individualized process, so finding what works best for you is key to maintaining a healthy smile.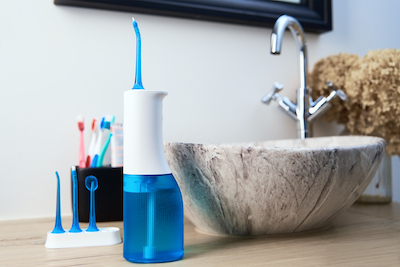 Other Ways to Enhance Your Teeth Cleaning Routine
In addition to using mouthwash with your Waterpik, there are several other practices you can incorporate to further elevate your oral hygiene routine. These additional steps can lead to a healthier, brighter smile and support overall oral health:
Regular Dental Check-ups
Scheduling regular appointments with your dentist is essential for maintaining optimal oral health. Professional cleanings and exams can catch issues early and ensure your teeth and gums remain in top condition.
Proper Brushing Technique
Ensure you're using the correct brushing technique. Use a soft-bristle brush and gentle, circular motions. Pay special attention to hard-to-reach areas.
Flossing
Don't neglect the importance of flossing. It reaches areas between teeth and along the gumline that brushing alone cannot access. This helps prevent plaque buildup and reduces the risk of cavities and gum disease.
Tongue Scraping
Use a tongue scraper to remove bacteria and residue from the surface of your tongue. This not only improves oral hygiene but also helps combat bad breath.
Limit Sugary and Acidic Foods
Sugary and acidic foods can erode tooth enamel and contribute to cavities. Limit your consumption of these substances and remember to rinse your mouth with water after consuming them.
Stay Hydrated
Drinking plenty of water throughout the day helps to maintain optimal saliva production. Saliva is crucial for neutralizing acids, remineralizing teeth, and flushing away food particles.
Consider Using a Mouthwash Without Alcohol
Whether or not you're using mouthwash with a Waterpik, consider using a mouthwash that is alcohol-free. This minimizes the risk of drying out your mouth or irritating sensitive tissues.
Avoid Smoking and Tobacco Products
Smoking and using tobacco products not only stain teeth but also increase the risk of gum disease and oral cancer. Quitting or avoiding these habits is crucial for oral health.
Maintain a Balanced Diet
A diet rich in fruits, vegetables, lean proteins, and whole grains and low in sugar provides essential nutrients for strong teeth and gums.
Use a Mouthguard for Sports
If you're engaged in contact sports, wearing a mouthguard helps protect your teeth from potential injuries.
By incorporating these practices into your oral care routine, you can significantly enhance the effectiveness of your teeth cleaning regimen. Remember, consistency is key, and maintaining good oral hygiene habits will contribute to a lifetime of healthy smiles.
Using Mouthwash with Your Waterpik: FAQs
Can I use any type of mouthwash with my Waterpik?
Absolutely! As mentioned earlier, opt for an alcohol-free, antimicrobial mouthwash for the best results.
How much mouthwash should I use with my Waterpik?
A small capful of mouthwash is generally sufficient. Be sure to consult the manufacturer's instructions for specific guidance.
Can I dilute the mouthwash with water before using it in my Waterpik?
While it's possible to dilute mouthwash, doing so might reduce its effectiveness. It's recommended to use it undiluted for optimal results.
Will using mouthwash in my Waterpik replace the need for traditional flossing?
While it's a great addition to your oral care routine, it's not a substitute for flossing. Incorporate both for a comprehensive clean.
Are there any mouthwashes to avoid using with a Waterpik?
Avoid using mouthwashes that contain high levels of alcohol, as they may damage the Waterpik unit over time.
Can using mouthwash in a Waterpik be harmful in any way?
When used as directed and with a suitable mouthwash, there should be no harm. However, if you experience any irritation or discomfort, discontinue use and consult your dentist.
Conclusion
In conclusion, the combination of mouthwash and a Waterpik can be a powerful addition to your oral hygiene routine. By following expert advice and selecting the right mouthwash, you can enjoy the benefits of this dynamic duo. Remember to exercise caution and discontinue use if any discomfort arises. Here's to a cleaner, healthier smile!