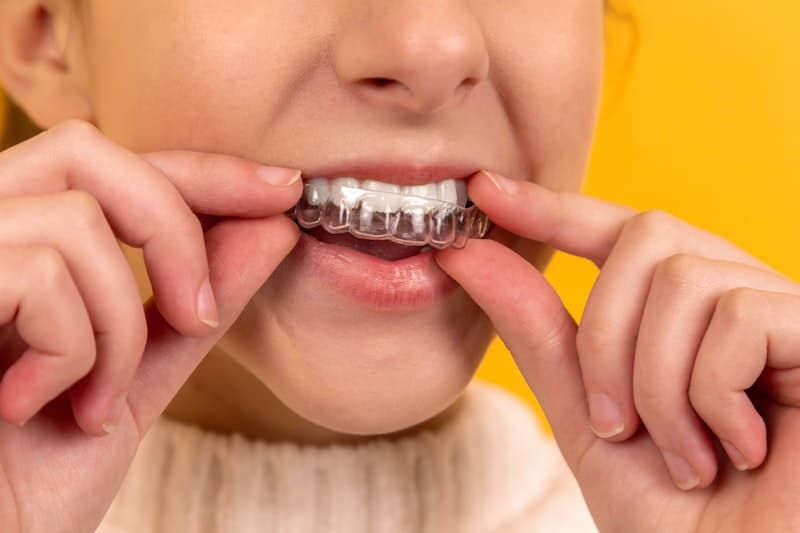 28 Jan

Best Night Guard for TMJ Clenching 2021
Best Night Guard for TMJ Clenching 2021
Temporomandibular joint (TMJ) disorders develop when jaws are misaligned and can cause significant issues. Symptoms can include jaw pain, ear pain, headaches, and a popping noise when you open your mouth. your dentist can typically treat this condition with a night guard or oral appliance.
What Is TMJ?
The TMJ is the joint that connects the jawbone with the temporal bones in your head, just in front of the ears. This joint allows you to move your jaw, enabling you to chew and speak. When problems causing chronic pain in the TMJ arise, they are known as TMJ disorders or TMD. 
There is no single cause of TMD. Trauma to the jaw or side of the head can result in TMD, in addition to misaligned bite or jaws, teeth grinding and clenching, arthritis of the TMJ, and chronic stress.
Signs of TMJ Disorders
Signs of TMJ disorders can vary from patient to patient and usually depend on your age, health, and the underlying cause of the disorder. You may be suffering from the condition if you are experiencing issues such as:
Headaches or migraines

Swelling on one or both sides of the face

Ringing in the ears

A clicking or popping sound when you move your jaw

Significant wear and damage to teeth

Your jaw gets stuck in an open or closed position

Pressure or pain in the face or eyes

Discomfort when chewing, yawning, or other movements of the jaw

Pain in the jaw joint specifically, or more generalized pain in the face, ears, neck, or shoulders
If you are experiencing one, or several, or the issues listed above, you must contact your local dentist to determine whether you are suffering from a TMJ disorder.
TMJ Treatment Can Relieve Pain & Restore Your Quality of Life
If you suffer from temporomandibular joint (TMJ) disorders, also known as TMD, you can experience significant discomfort and other far-reaching symptoms. Your dentist provides effective TMJ treatment, for patients at their office.
They can identify the causes of your issues and can create a full treatment plan that typically incorporates a custom-made oral appliance. Successful TMJ treatment aims to relieve symptoms while also treating the underlying cause.
Customized TMJ Treatment
When you meet with your dentist they will thoroughly examine your teeth and jaw and take any necessary x-rays. They will also ask you in-depth questions about your jaw pain and lifestyle to determine the underlying cause of your discomfort.
Providing them with detailed answers will help them develop the most appropriate treatment plan for you. In most cases, an oral appliance can help individuals struggling with TMJ pain. 
A custom-made oral appliance also referred to as a nightguard, can be crafted from a variety of materials, depending on your specific needs. Nightguards will hold your jaw in the proper position, relieving pressure from misalignment and preventing grinding or clenching of teeth. 
If your TMJ disorder is stress-related, your dentist may recommend some stress-reduction techniques in addition to the night guard. Your treatment is completely customized to your situation, so treatment for your condition may differ greatly from another patient's treatment.
Fortunately, there are several products available for individuals suffering from TMJ disorders. Listed below are 5 of the best TMJ mouth guards available online. A solution such as this could provide you with adequate relief until you can receive customized TMJ treatment from your dentist! 
The enCore Guard is a custom dental night guard made specifically for TMJ relief. This product is essentially a custom impression kit that arrives at your home with detailed instructions on how to achieve accurate impressions of your teeth.
After completing your impressions, you will return them in the pre-paid mailer that is included in the kit. Once the impressions are received, production begins. Your custom night guard for TMJ relief should arrive in as little as 7 days!
Review:
I had no idea there was an alternative to either spending an insane amount of money through a dentist's office for a nightguard or continuing to rely on poorly fitting and insubstantial store-bought guards.
I took a chance and ordered a dual-layer upper guard through this company and every part of the experience has been easy, direct, and satisfying. Highly recommend.
Item Weight: 12.8 ounces
Dimensions: 10 x 7.9 x 2.2 inches
Similar to the model mentioned above, the Remi At-Home Custom Night Guard Kit allows you to create a TMJ mouth guard that is perfectly suited to your smile. With both an upper and lower guard, this style is incredibly thin and comfortable to wear.
The company is so committed to excellence that they allow you to try your custom mouth guard risk-free for 30 days! If you aren't completely satisfied with your results, you can return the mouth guard for a full refund.
Review:
I purchased this as a replacement for my TMJ night guard that broke during the night and would have cost me $500 to replace. This comes in great sterile packaging. There are two molds to do in under four minutes. 5 stars for this group eliminating the middle man!
Item Weight: 11.99 ounces
Dimensions: 11.42 x 8.66 x 2.32 inches
Significantly less expensive than previous models, the Neomen Professional Dental Guard provides a more simple alternative for individuals wishing to see if a mouth guard will provide them with relief from TMJ pain.
This kit comes with four moldable mouth guards, allowing you to select a size that fits comfortably. Easily form the mouthguard to your personal preference by boiling it before shaping it to your smile. This process can be repeated if the fit is not perfect!
Review:
This is truly a quality product! Yes, it's probably not what your dentist can do for you, but if you are looking for an affordable mouth guard to avoid grinding your teeth this would be it! It helps for me and I can sleep with it comfortably!
Item Weight: 3.21 ounces
Dimensions: 4.75 x 3 x 1.75 inches
The SMARTGUARD ELITE Dental Guard features a unique. front-tooth design. While providing relief for individuals suffering from TMJ pain, this type of mouthguard often feels less restrictive.
Designed by a dentist specializing in the treatment of TMJ, this TMJ night guard is easily moldable to ensure you get the perfect fit!
Review:
Wow! Just wow! This mouth guard has changed my sleeping habits for the BETTER. Before I would grind through all my mouth guards. This one forces my jaw to relax and now I sleep all the way through the night. I don't wake up with any headaches or jaw pain anymore.
I tried massage therapy, TMJ adjustment, even specialty mouth guards. This WORKS above everything else I've tried.
Item Weight: 3.21 ounces
Dimensions: 6.5 x 3.8 x 2.2 inches
The SOVA Aero Night Guard is one of the thinnest TMJ mouthguards on the market. Its unique design promotes airflow, making it comfortable to wear any time of the day!
This incredibly sleek product is customizable and can be easily remolded up to 20 times to ensure an optimal fit. Made using an odor and taste-free material, you may even forget you are wearing this TMJ mouthguard.
Review:
This is the best mouth guard that I've found. This purchase is the second one for me, but only because I have to have one sanitizing. This was very easy to form. I took a couple of times heating, but only to fine-tune. I love these and trust no other!
Item Weight: 0.8 ounces
Dimensions: 5.5 x 4.5 x 5.5 inches