Brushing your teeth daily is the foundation of a healthy oral care routine. However, there is much speculation about how to brush your teeth. What tools are best to use? Is an electric toothbrush more effective than a manual toothbrush? There are many ways you can damage your teeth while you are trying to take care of them. This is something you want to avoid at all costs!
Do electric toothbrushes damage teeth? Simply put, no.  Electric toothbrushes do not damage teeth as long as they are used in the proper way. As with anything, it is important to follow the correct technique to avoid the possibility of damaging your teeth while using an electric toothbrush.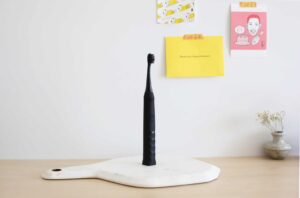 Just as it is possible to damage your teeth while using a manual toothbrush improperly, it is also possible to damage your teeth with an electric toothbrush. However, by following a few simple guidelines, you can create a bright and healthy smile using any type of toothbrush. When used in the correct way, an electric toothbrush can be a tremendous asset as you work towards a healthy grin.
Problems Caused by Electric Toothbrushes
When you use an electric toothbrush, you are opening yourself up to the possibility of damaging both your teeth and your gums. However, many of these risks are the same as they would be with a manual toothbrush. Because of the nature of an electric toothbrush, however, these problems will be accelerated making it crucial to use proper technique while brushing. 
Tooth Sensitivity
Tooth sensitivity is most commonly caused by a lack of enamel. Enamel is the protective outer layer of the tooth. The enamel of your tooth can be worn down by brushing too aggressively. While using an electric toothbrush, it is crucial to be aware of the pressure you are applying while you brush. When your enamel is worn off, your teeth will become sensitive to both hot and cold temperatures. Although this may not seem like a big deal, it can cause great discomfort and pain.
Gum Recession
The main complaint from people who have used an electric toothbrush is that they believe the toothbrush lead to increased gum recession. When the gums recede, the root of the tooth is exposed. The initial side effects of receding gums are often sensitivity and pain. However, when left unaddressed or if the recession is advanced, this condition can lead to gum disease.
Severe cases of gum recession may even require periodontal surgery. As with any toothbrush, it is important to use caution while brushing around the gum area. Although it is important to clean this area thoroughly, it is also imperative that you practice proper technique so as to avoid damage to your gum line.
Tooth Abrasion
Tooth abrasion also occurs as a result of brushing too aggressively, something that is easy to do while using an electric toothbrush. When the enamel is worn off the tooth due to abrasion, it can lead to cavities and other symptoms which will require professional care.
It is important to remember that it takes only a light amount of pressure to remove the plaque on your teeth. Brushing harder will not result in cleaner teeth. It will actually cause further damage, leaving your teeth in worse shape than they would've been otherwise.
Benefits of Using Electric Toothbrushes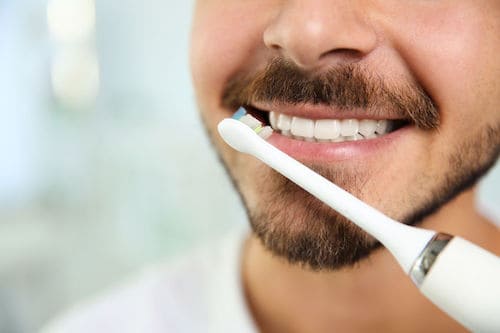 There are many benefits to using an electric toothbrush! In fact, many studies claim that an electric toothbrush is actually much better for your overall dental health than a manual toothbrush. Of course, this is highly dependent on the individual and their personal brushing technique. However, if you are currently using a manual toothbrush, it may be wise to consider making the switch to one of the many electric toothbrushes available today.
More Effective Cleaning
Electric toothbrushes are designed to clean your teeth thoroughly. With different types of rotating brush heads, varying speeds, and specialized materials, an electric toothbrush is the ultimate at-home cleaning machine. Although it is possible to clean your teeth correctly using a manual toothbrush, an electric toothbrush is designed to mimic the cleaning you receive at the dentist's office during your bi-annual visits.
Consistent Routine
One of the biggest benefits of using an electric toothbrush is the consistency that it offers. Because the speed and brush rotations are set to certain specifications, your teeth will always get the attention they deserve. Almost every electric toothbrush is equipped with an internal timer which will shut off after two minutes. This takes the pressure off of you to time your brushing routine each day. Simply brush until the electric toothbrush powers off on its own! 
Ease of Use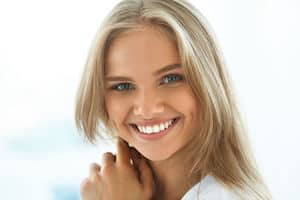 Electric toothbrushes are much easier to use once you establish your routine. You don't have to worry about the fine motor skills needed to brush with a manual toothbrush. Because of this, electric toothbrushes are excellent for small children as well as adults faced with a disability.
An electric toothbrush can be a wonderful tool which can instill confidence in someone who otherwise would require assistance in this daily task. Electric toothbrushes also give parents the peace of mind to know that their children's teeth are being cleaned properly each time.
Immediate Feedback
In the modern age that we live in, many electric toothbrushes are equipped with internal pressure sensors. These sensors will alert you when you are brushing too aggressively. Some electric toothbrushes are even equipped with an app that will send you updates on your daily brushing habits. This daily feedback can be invaluable in establishing healthy oral care habits. 
Mistakes Made While Using Electric Toothbrushes
The problems that we talked about earlier in this article can all be attributed to a few common mistakes that are made while using an electric toothbrush. These mistakes are easy to correct as long as you know what to look for. Practicing proper brushing technique in these areas will go a long way to promoting a healthy smile.
Applying Too Much Pressure
It is a common myth that brushing harder will clean your teeth better. Plaque is actually removed with just a light brushing. When you apply too much pressure, abrasion can occur which leads to many problems including cavities. Especially when you're using an electric toothbrush, it is important to let the brush do the work. You shouldn't be applying much pressure at all as you brush your teeth.
Not Brushing Long Enough
It is recommended by dentists everywhere that you brush your teeth twice a day for two minutes. An electric toothbrush makes this easy as it powers off automatically once that time has been reached. Too many people, however, manually shut the toothbrush off before the two minutes have finished as they are impatient. It is important to do a thorough job and brush for the full two minutes to achieve the smile you desire.
Using a Dirty Toothbrush
Although it is said that electric toothbrushes last longer than manual toothbrushes, it is still important to replace your toothbrush as often as is recommended. When a toothbrush is old, it no longer cleans as well as it should.
A dirty toothbrush is also a breeding ground for bacteria which can lead to both gum and tooth disease. Most electric toothbrushes simply require you to purchase a new brush head to replace the old one. Many electric toothbrushes are even equipped with color changing bristles which notify you that it's time to change to a fresh brush!
Manual Toothbrushes vs. Electric Toothbrushes
There are many things to consider when deciding which type of toothbrush is right for you. If you travel often, for example, you may choose to use a manual toothbrush as it is more portable. If you have issues with dexterity, you may opt for an electric toothbrush as it is easier to use. Price is also a factor to consider as many electric toothbrushes are quite pricey. However, electric toothbrushes do have a longer lifespan than a manual toothbrush. The investment will likely pay itself off in the long run. 
If you are debating the switch from a manual toothbrush to an electric toothbrush, talk to your dentist. They will be able to offer you their insight as well as recommend an electric toothbrush that will work best for you. You can also read more information about choosing an electric toothbrush that works for you here.
Related Questions
When is the best time of day to brush your teeth? Dentists everywhere recommend that you brush your teeth twice a day for two minutes each time. Brushing once in the morning will remove any plaque that built up throughout the night, as well as providing you with fresh breath. Brushing in the evening before bedtime is the best way to remove any food that has been left in your teeth to prevent decay overnight.
How long should you brush your teeth each day? To achieve the healthiest teeth and gums, it is important to brush your teeth twice a day for two minutes each time. Using an electric toothbrush with a time setting will help you accomplish this with ease. However, you can also simply use a watch or clock to time your brushing if you use a manual toothbrush.
Can you brush your teeth too hard? Yes! It is possible to brush your teeth too hard. This is known as overbrushing. Brushing too hard leads to gum recession, tooth abrasion, and eventual oral disease. Practicing proper brushing technique is the best way to avoid this situation. Click here to read more about the damage that can be caused by brushing your teeth too hard.