Flossing With a Permanent Retainer: Step-By-Step Guide
The most common area for tooth decay and cavities to occur is in-between teeth. Plaque and food particles can get stuck in-between teeth and eat away at the enamel of the tooth. This is why flossing is an essential step in oral health care. You may find it difficult to floss correctly if you have dental equipment in your mouth like braces or a permanent retainer, which can put you at risk of tooth decay.
So, how do you floss with a permanent retainer? Here is a step-by-step guide on how to floss with a permanent retainer:
You'll need to use a flossing string rather than a flossing tool. You may also hand to have a flossing threader on hand.
Using your flossing threader or your flossing string, you'll put the floss over the retainer and in-between your teeth.
Hold both ends up the floss in either hand and work the floss back and forth between your teeth, as if your flossing like normal. 
Use you're done with one tooth, you can leave the floss threaded through the top of the retainer and move on to the next tooth by moving the floss in-between the teeth.
By using this method, you can still be effective with flossing, even with a permanent retainer. While it may seem difficult at the beginning to thread the floss through the retainer and your teeth, with some practice you'll soon have it down fast. To learn more about flossing with a retainer, keep reading!
What is a Permanent Retainer?
A permanent retainer is a piece of dental equipment that may be installed in your mouth once you have dental braces removed. While many people who have had braces are given a removable retainer to wear for a certain amount of time, some people will need to wear a permanent retainer if their teeth have been drastically altered.
A permanent retainer is usually a metal wire that will be placed behind your front teeth, invisible to the human eye. It will normally go behind the front six teeth of either your upper jaw, lower jaw, or both. The permanent retainer will be glued in place, meaning that it will likely stay in your mouth for the rest of your life.
The reason that it can be more difficult to floss with a permanent retainer is that the retainer blocks you from being able to effectively work any plaque or food particles out from between your front teeth.
What You'll Need to Floss With a Permanent Retainer
When it comes to flossing with a permanent retainer, there are a few specific items you'll need:
Flossing String
Flossing Threader
Permanent retainers make it too difficult to use a normal flossing tool that can be used with one hand. You'll want to find flossing string and a flossing threader. You can find these items at most major drugstores, convenience stores, and grocery centers.
Flossing string is a durable string of floss that you can work between your teeth to remove food particles and plaque. You'll need to use two hands to adequately use flossing string, moving the string up and around your gums.
You may or may have never heard of a flossing threader. A flossing threader is made out of flexible plastic and has a narrow point at one end and a plastic loop at the other, somewhat like a sewing needle. You'll put the floss through the looped end then use the narrow end of the flossing threader to thread the floss through your teeth.
Flossing With a Permanent Retainer: Step-By-Step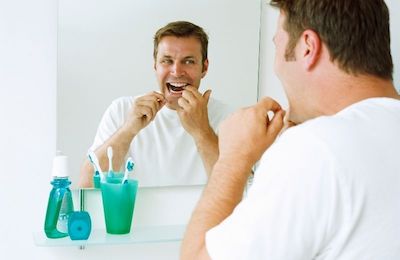 Here is an in-depth look at all the steps you'll need to take to floss your teeth even while wearing a permanent retainer:
Step 1:
Have your flossing equipment ready. You'll need a flossing string and a flossing threader. It's easies to floss in front of a mirror so you can see what you're doing. We recommend flossing in the bathroom where you can look in a mirror and rinse away any plaque or food particles.
Step 2:
Put your flossing string through the loop on the flossing threader. Using the narrow end of the flossing threader, maneuver the floss over the top of the permanent retainer behind your teeth and through the teeth you'll floss in-between first. You'll only need to thread your floss over the retainer once.
Step 3:
Once you've gotten your flossing threader and floss over the retainer and through your front teeth, you can hold both ends of the floss in either hand. Work the floss back and forth over the gums between your teeth and up and around the edge of your teeth to remove food particles and plaque.
Step 4:
To move on to the next tooth, simply remove the floss from between the two teeth and go on to the next one. You don't have to unthread the floss from over the permanent retainer, as the retainer will allow for the floss to move from one front tooth to the other.
How Often Should You Floss
You should make it a goal to floss your teeth once a day, even with a permanent retainer. By doing this regularly, you're removing plaque from in-between your teeth before it can cause any real damage. It's also important to floss regularly with a permanent retainer since the retainer may trap food and plaque more often than usual.
To know more about how often you should floss, read our article How Often Do You Need to Floss?
Other Ways to Care for a Permanent Retainer
Brush Your Permanent Retainer Well
Caring for a permanent retainer can largely go overlooked since it's behind your teeth and out of sight. It's important to brush around your permanent retainer well to remove plaque and food particles from underneath and around it. This will not only keep your teeth more healthy but will also clean your retainer.
Visit Your Dentist Regularly
While permanent retainers do work to hold your straight teeth in place, they can make it more difficult to properly care for your teeth. Visit your local dentist regularly to ensure the care and evaluation of your teeth and your permanent retainer. The dentist will be able to catch early signs of decay in your teeth and take preventative action against it. They'll also be able to give you advice on how to better care for your teeth with a permanent retainer.
You should schedule a dentist visit at least every six months. At these visits, the dentist will examine your mouth and also do a professional dental cleaning.
Avoid Sticky Foods
Just like with braces, you should avoid sticky foods if you have a permanent retainer. Sticky foods can weaken the dental equipment and the glue that is holding the equipment to your teeth. While permanent retainers are supposed to last a lifetime, they can be loosened and fall off if not cared for correctly. Once your permanent retainer has fallen off, your front teeth can shift back to their original position, making your smile look less straight and even.
Notify Your Orthodontist if the Retainer Comes Loose
If you notice that your permanent retainer does feel loose or has fallen off, schedule a visit with an orthodontist immediately. The orthodontist should be able to act before your teeth start shifting back to their original place. They will replace the permanent retainer so that you can go back to your business as before.
Permanent retainers can benefit your smile and ensure the long-lasting positive results of braces. It's important to properly care for and maintain your teeth so that your teeth will stay healthy and the dental equipment will work as it should. If you want to know about other ways you can maintain your teeth after braces, click here.