What You Should Know About Pediatric Dentists
Whether you are looking for a new dental practice, or simply wondering when it will be time to move on from your current dental care provider, it's important to known the differences between various types of dental specialties. The most common type of specialty practice is that of a pediatric dentist. 
Can pediatric dentists treat adults? Although some pediatric dentists will agree to treat adults, it is generally best to find a family dentist or general dentist if you are over 18 years old. There are exceptions for this, such as adults needing special accommodations or those with special health care needs.
So what's the big deal? Are pediatric dentists really that different than family dentists? Keep reading to learn more about the benefits of pediatric dentists for your children, as well as why it is important to transition to a general dentist once you reach adulthood.
How Old is Too Old for a Pediatric Dentist?
As stated previously, pediatric dentists typically treat patients between the ages of 0-18 years old. Some pediatric dental practices will treat their patients until they reach 21 or 22 years of age, however,  this is uncommon. 
In many cases, children decide to transition to a family dentist when they reach adolescence due to the decor and atmosphere of many pediatric dental practices that cater to younger patients.
There are a select few pediatric dentists that will treat patients older than age 18. One such situation is for patients who have special health care needs or those who require special accommodations. In these situations, it may be best to continue to receive care from a pediatric dentist with whom the patient has developed a deep level of trust.
Pediatric Dentist vs. Family Dentist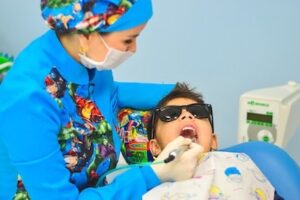 How do pediatric dentists differ from general practice dentists? Family dentists, or general dentists, provide dental care to patients of all ages. While children are not their specialty, they do have the expertise to care for your child's oral health. 
Pediatric dentists receive additional training and education specific to the dental health care needs of children of all ages. Learning about healthy oral development from birth to adulthood is a crucial part of this training. This provides your child with access to the very best dental care as they continue to mature.
Additionally, pediatric dental practices cater specifically to children. Not only is the decor and atmosphere welcoming, but the furniture and tools are made to suit their needs. This creates an experience that is both enjoyable and comfortable for your child. Especially for children who have anxiety surrounding dental care, these details can add a lot to the overall experience.
Specialties of a Pediatric Dentist
Pediatric dentists have participated in extensive training that covers the unique dental care needs of children from birth to adulthood. Issues such as proper development, specialized dental procedures, even child psychology are included in their training. This provides many benefits to their small patients. Here are just a few of the specialties provided by a pediatric dentist.
Sedation Dentistry
Unfortunately, many children have intense anxiety surrounding dental care. Pediatric dentists often specialize in sedation dentistry. By using pediatric sedation dentistry, you can ensure that your child is safe and comfortable while receiving the dental care procedures they need.
Sedation dentistry is highly valuable for children with a limited attention span, trouble sitting still for long periods of time, those with high anxiety, and children with special health care needs. This is one of the primary benefits of working with a pediatric dentist for your child's dental health care.
Specialized Pediatric Dental Procedures
Unlike family dentists, pediatric dentists have committed their careers to learn about the unique dental needs of children. With the ever-changing needs of a child's oral health care, this is of great benefit. 
As your child matures, they will begin to lose their baby teeth. This process can create problems that require special intervention to ensure that their adult teeth grow in properly. Pediatric dentists are equipped with the skills necessary to oversee this process and intervene when necessary.
Why Children Benefit From a Pediatric Dentist
There are many reasons why it is beneficial for children to receive dental care from a pediatric dentist. 
Enjoyable Dental Practice Atmosphere
Visiting the dentist can be an intimidating process for a child of any age. Even after several years, anxiety can begin to creep in during bi-annual visits. Pediatric dental practices go out of their way to create an atmosphere and environment that is enjoyable for children.
They hope that by creating a fun experience, they will be able to overcome any unnecessary fear that your child has. This will, in turn, provide your child with a more successful dental care visit. 
Properly Sized Equipment 
Although general dentists can treat children, they are not equipped with the proper tools or equipment. This can create a very uncomfortable experience for your child. Children can benefit greatly from dental equipment and fixtures that are built just for their smaller size. 
Not only will they have a more comfortable experience, but their dental team will be able to provide more precise dental care using tools that were built just for them.
Follow Them Through Development
With bi-annual dental exams and cleanings, a dentist sees your child on a pretty regular basis. As they continue to mature, this familiarity continues to build. This is beneficial as the dentist is well-acquainted with the progression of any dental concerns that have continued to progress.
Trained to Understand Your Child
Pediatric dentists work with children on a daily basis. They will not become frustrated by your child's fear or questions. In fact, they know just how to address these situations. This creates an atmosphere where your child feels heard and understood, something that can go a long way in developing a level of trust with their dental care provider.
These are just a few of the ways that a pediatric dentist can benefit your child. Pediatric dental teams are dedicated to creating a fun, welcoming experience when your child is in their care. 
This not only benefits your children's dental health but also will cause them to look forward to their next dental cleaning and exam. Visits to the dentist will no longer be an emotionally exhausting experience.
Transitioning From a Pediatric Dentist
So, what do you do when it's time for your child to transition from their longtime pediatric dentist to a general dentist? There are a few things you can do to make this transition easier on everyone.
Don't Make the Switch Too Early
If your child is in the middle of a more involved dental care procedure, it is best to wait to transition to a general dentist until that situation is resolved. Transitioning away from your pediatric dentist too early can force you to backtrack on the progress you have made. 
Listen to Your Child
Sometimes, it's best to let your child tell you when they are ready to leave their pediatric dentist. For some children, this may be as early as their pre-teen years. For others, leaving their pediatric dentist at 20 may be upsetting. 
Providing your child with access to a dental care practice where they feel comfortable will encourage a healthy relationship with the dentist.
Ask for Recommendations
When in doubt, ask your pediatric dentist for guidance. Transitioning their patients to a general dentist as they mature is a normal part of their job. Although they are sad to see your child move on, they are always happy that your child has matured to this point.
Your pediatric dentist will often have a general dentist to whom they refer their patients. This will create a smoother transition for your child.
Whether your child is a toddler or teen, providing them with top-notch dental care is one of the most important things you can do to encourage a healthy future. Many of our healthy habits are formed during childhood. By creating a positive atmosphere around dental care, you will give your child the gift of a healthy, beautiful smile. 
Children's Dental Health Center provides exceptional pediatric dentist services in and around the Tulsa area. With services ranging from basic dental exams to sedation dentistry and the ability to accommodate for special health care needs, their team is making a difference for children of all ages.
Related Questions
How early should my child go to the dentist? Each child develops at their own rate, this includes their oral health. However, you should take your child for their first dental checkup before they reach 2 years old. Even if they do not have many teeth, this begins the process of familiarizing them with the dentist, creating a positive reaction to dental checkups.
Why is my child afraid of the dentist? Unfortunately, many children are afraid of the dentist. Sometimes this is because of past experiences, other times it is simply because it is an unfamiliar situation. The best way to overcome this fear is to find a pediatric dental practice where they feel comfortable. With time and patience, they will overcome this fear and develop a level of comfort with their dental care team.