Dentists everywhere suggest that you change your toothbrush every three to four months. However, are there other times when it is beneficial to change your toothbrush? Should changing your toothbrush be a part of your cleaning routine after recovering from a sickness or infection? This is definitely something that should be considered.
Should you change your toothbrush after being sick? There is not enough scientific evidence to prove that it is necessary to replace your toothbrush after recovering from sickness. However, dentists agree that although it is not necessary, it is a very wise idea. Your toothbrush harbors germs and bacteria of all kinds, something that should be avoided during your recovery.
Because of this, it is important to change your toothbrush as soon as you are showing signs of recovery. Changing your toothbrush after being sick is the best way to ensure that your recovery will be complete. In addition to dentists' opinions, there are many other facts that support this idea. There are also a few alternatives to buying a brand new toothbrush after sickness.
Why Changing Your Toothbrush After Sickness is Important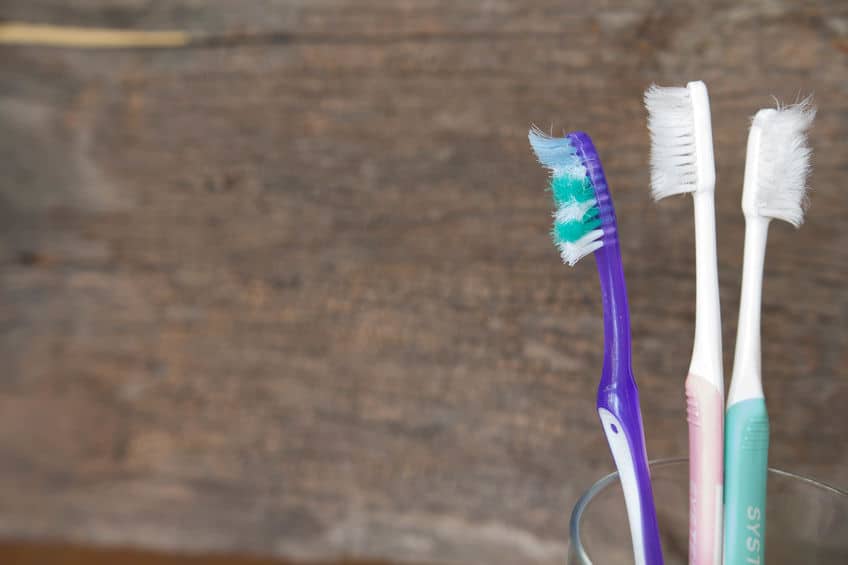 Many experts in the dental profession agree that replacing your toothbrush after suffering from an illness is important. According to Colgate, "…germs can hide in toothbrush bristles and lead to reinfection." In addition to causing reinfection, the germs that are hidden in your toothbrush bristles can also infect other people in your household! Changing your toothbrush after sickness is a great way to keep both yourself and your loved ones as healthy as possible.
Types of Germs That Live on Toothbrushes
There are many types of germs that live on toothbrushes both while you are sick as well as while you are relatively healthy! This is a great reason to change your toothbrush regularly, but especially after sickness invades your home. There are many germs and bacteria that live between the bristles of your toothbrush. Although many of these are relatively harmless, it is still wise to avoid them when possible. Some of the most common germs include: 
Streptococcus: causes tooth decay and cavities, this may also lead to strep throat.

Herpes Simplex Virus: causes cold sores in the mouth and on the lips.

Influenza Virus: causes the flu virus.
The items listed above are just a few of the most common bacteria found within the bristles of the toothbrush. There are many others that can be transferred from one toothbrush to the next. Because of this, it is incredibly important to always use your own toothbrush. This is also another reason to disinfect or change the toothbrushes of the entire household, even if only one individual is infected with the sickness. 
Alternatives to Changing Your Toothbrush After Sickness
If you are unable to change your toothbrush immediately after a sickness, there are several great alternatives. Disinfecting your toothbrush is a relatively simple process that uses items that are already found around your home. Following one of these disinfection procedures will allow you to use your toothbrush without fear of further sickness.
Disinfecting Your Toothbrush
The purpose of disinfecting your toothbrush is to thoroughly cleanse it of harmful germs and bacteria that are lurking in the bristles. There are several simple ways to clean your toothbrush, including but not limited to the following.  
Hot Water is one of the easiest disinfection methods. You can disinfect your toothbrush by immersing it in boiling water from the stovetop. An even easier hot water method is to simply put your toothbrush in the dishwasher. Run a high-heat cycle without using detergent. It is important to use caution when brushing your teeth after using the hot water method of disinfecting as some of the bristles or the body of the toothbrush could be compromised, causing injury.
Mouthwash

or denture cleaner is another way to disinfect those dirty bristles. Soaking your toothbrush in either mouthwash or denture cleaner for 15-20 minutes every few days will keep the germs at bay. The minty freshness is an added benefit to this method of cleaning! In addition, mouthwash and denture cleaners are specifically formulated to kill germs and bacteria that are commonly found in the mouth. 

Electric Toothbrush Cleaners

are available for people who are very passionate about staying away from germs and bacteria between the bristles of their toothbrush. Although it may seem like this is the superior method of disinfecting, most dentists agree that it is not much more effective than other methods of cleaning. In addition, these devices are pricey and not stored easily which may prove a problem if your bathroom storage space is small. 
Other Reasons to Change Your Toothbrush
In addition to sickness, there are several other reasons to change your toothbrush. Although the dentist will give you a new toothbrush every 6 months during your bi-annual visit, it is recommended that you only use a toothbrush for 3-4 months. Thankfully, toothbrushes are very inexpensive, making this very doable for most people. 
Toothbrush Bristles Are Worn Out
The most important time to change your toothbrush is when you notice that the bristles have begun showing signs of wear. Worn out toothbrush bristles can cause a multitude of problems. Toothbrushes with bad bristles will no longer clean the teeth and gums as effectively as they should. This makes the time you spend at the sink each day a complete waste! Worn out toothbrushes can also damage your gums which may lead to infection or disease. A simple laceration caused by damaged bristles can become infected with common oral bacteria and lead to a much greater issue.
After Travelling with Toothbrush
Many of us are so concerned with unpacking after our travels that we forget about all of the places our toothbrush has been! When you are living on the go, your toothbrush is often closed in a cosmetic bag that lacks ventilation. Leaving your toothbrush on the countertop of your temporary home will cause issues as well! Your toothbrush may come into contact with unusual germs or bacteria which could cause an eventual sickness. It is always a wise idea to grab a new toothbrush as you prepare to travel so you are able to throw out your traveling toothbrush upon your arrival at home.
Toothbrush Isn't Suited for Your Mouth
Did you know that not every toothbrush works for every mouth? There are certain toothbrushes that could be causing more harm than good in your individual situation. It is wise to ask your dentist which size and density of toothbrush he would recommend for your teeth. If the toothbrush you are currently using doesn't fit these specifications, it is time to make a change to a toothbrush that is better suited for your mouth.
What Happens When You Don't Change Your Toothbrush
Changing your toothbrush may not seem like an important task. However, as you can see by now, there can be consequences ranging from mild to severe. Ranging from tooth and gum damage to a serious illness, these problems have the potential to do more than just make your daily brushing experience uncomfortable. 
When you are sick, no matter how small the infection, those germs infect your toothbrush. Although they may not cause a problem immediately, they have the potential to cause additional illness for you or the other people who live in your home. Because of this, it is wise to change your toothbrush after being sick. This simple, inexpensive task can save you great discomfort or inconvenience in the future.
Related Questions
Is it important to brush your teeth while you are sick? Although most people feel lethargic while they are battling a cold, it is incredibly important to maintain proper oral hygiene if at all possible. Failing to clean your teeth and gums while you are sick could cause further infection which could spread to other areas of your body. 
Should I floss my teeth every day? Dentists everywhere recommend brushing your teeth twice a day for two minutes each time. However, it is also important to floss your teeth once each day. Flossing is the only way to clean tight spaces between your teeth which trap bacteria and food particles. Although flossing may just seem like an unnecessary step, it has also been proven to impact your overall health.
Is it possible to brush your teeth too hard? Yes, it is absolutely possible to brush your teeth too hard. In fact, dentists recommend using a soft-bristled toothbrush coupled with soft circular motions to avoid damage to both the teeth and gums. Brushing your teeth too hard, or with a toothbrush that is too coarse, will create abrasion to the enamel which is protecting the tooth. This will eventually lead to tooth decay and disease and even has the potential to damage your gums.
Thank you for reading Modern Dental Hygiene!
This article was sponsored by Children's Dental Health Center from Tulsa, Oklahoma. They specialize in providing excellent children's dental care for kids of all ages while creating an engaging and welcoming office environment. You can visit their website here to learn more.