Should You Keep Your Toothbrush in Your Bathroom?
This is a question that many may ask regarding where to store your toothbrush. Is this even an important question to ask? Yes, in my research, I have seen that this is important for keeping your toothbrush sanitized. We should be careful about whatever we put in our mouths. Bacteria can lead to various viruses or fungi. This can lead to serious long-term effects like gum disease. It can be an open door to an unhealthy mouth.
So, should you keep your toothbrush in the bathroom? The answer to this question is multi-faceted. Yes, you can keep your toothbrush in the bathroom. However, you must ensure the toothbrush is far away from the toilet. Your toothbrush should be a certain proximity away from your toilet. There are many other ways to ensure the sanitation of your toothbrush, such as how you store your toothbrush and how to disinfect your toothbrush.
In this post, we will discuss more in-depth where you should keep your toothbrush in your bathroom and more, so keep reading!
Proper Toothbrush Storage
We need to work to ensure proper toothbrush storage. Firstly, you need to make sure your toothbrush is kept out of harm's way. Your toothbrush should not be in the reach of small children, pets, or anyone else who can't put your toothbrush in their mouth. Your bathroom is one of the best places to store your toothbrush (out of reach of children and pets)! If you store your toothbrush in your bathroom, store it on a clean counter. A toothbrush holder may be a wise purchase to ensure your toothbrush does not contact the counter. A toothbrush holder will allow your toothbrush to air dry safely, allowing water to drip down away from the bristles.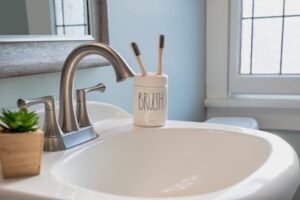 Places to Not Put Your Toothbrush
As a note of caution, you must not allow other individuals' toothbrushes to contact yours. Even if you are related, this is a surefire way for bacteria to spread and keep your toothbrush from drying properly.
Make sure you do not store your toothbrush near your toilet. Your toilet is full of bacteria that can reach your toothbrush and this is bad for your teeth and your overall oral health. Also, be careful not to get air freshener on your toothbrush bristles. Once your toothbrush is dry and disinfected, placing a cover over it is best.
Other areas not to store your toothbrush include inside a medicine cabinet. This might help your toothbrush from being exposed to air particles circulating in the bathroom air. However, when the cabinet is closed/sealed, you have created a good environment for bacteria to grow on your toothbrush due to the trapped humidity inside. If you have to use your medicine cabinet, please allow your toothbrush to dry before storing it for storage. This is the same rule of thumb for storing your toothbrush in a bathroom drawer. This is not the ideal location for storing your toothbrush. However, if you have no choice but to use a drawer as storage, make sure your toothbrush is dry and covered before placing it in a drawer.
Lastly, storing your toothbrush in your bag, car, or desk drawer is not the preferred place to store your toothbrush. If you have to place your toothbrush in any of these places, make sure that it is covered. However, it is not recommended that this "travel" toothbrush should not be your main toothbrush. If you are storing your toothbrush in these places, you should try to have a secondary toothbrush to use when your other toothbrush is drying.
How to Disinfect Your Toothbrush
The National Dental Association advises that you clean your toothbrush thoroughly at least once per week and schedule regular dental check-ups and cleanings every 3 to 6 months. They also recommend replacing your brush head or toothbrush every three months. When you use your toothbrush, all the bacteria from your mouth can live on your toothbrush.
Research has shown that microorganisms can still be left behind even after you rinse your brush with water. Many of these microorganisms are harmless, but others can cause viruses like the flu. So, you can see how important it is to sanitize your toothbrush. There are a number of different ways to sanitize your toothbrush. Some ways include:
Soaking your toothbrush in mouthwash (antibacterial).

Store your toothbrush in hydrogen peroxide.

Boil your toothbrush in hot water for about 3 minutes.

Use a UV sanitizer.

Use a denture cleanser.
If you opt to soak your toothbrush in mouthwash, leave your toothbrush in the solution for at least 30 seconds. Also, you must make sure you rinse it well. When using the hydrogen peroxide method, make sure you mix the hydrogen peroxide with water and let your brush soak for 15 minutes. Rinse your toothbrush before brushing. This solution must be changed daily. (You do not want to spread the previous day's germs!) Some people also have tried soaking their toothbrush in white vinegar once a week to disinfect it.
Lastly, some people use denture cleansers to disinfect their toothbrushes effectively. Denture cleansers have cleansing enzymes and detergents to remove food stuck between bristles. However, you must remember to rinse your toothbrush well after using a dental cleaner. Make sure you clean your toothbrush weekly and keep a supply of extra toothbrushes or brush heads to be able to switch out your existing ones every three months.
Tips for Traveling with Your Toothbrush
Sometimes we must travel with our toothbrushes. This will often disrupt our regular toothbrush storage and disinfection practices. Do your best to protect your toothbrush from bacteria when traveling. Make sure to keep your toothbrush in a clean, dry place. It is best to have a protective case for your toothbrush when traveling. The best case is one that has a way for ventilation to reach your toothbrush bristles. Do not forget some of the advice mentioned in this article. Remember to remove the brush from its case and allow it to air dry between uses. Another travel to is to purchase a toothbrush that is just for travel.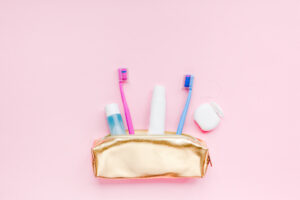 Related Questions
Does having an electric toothbrush make a difference in how your toothbrush is stored?
An electric toothbrush is stored similarly to that of a non-electric toothbrush. The only difference is storing and maintaining the brush heads of an electric toothbrush. Be sure to store your extra brush heads in a clean, dry space. Purchase a storage case to ensure proper storage. You can also purchase a vented storage cap. This will allow your toothbrush to air-dry while keeping it protected.
What about my toothbrush holder? 
Your toothbrush holder can be one of the most germ-invested places in your bathroom! Harmful bacteria in your toothbrush holder can lead to things like canker sores or gingivitis. You can clean your toothbrush holder by putting it in the dishwasher. While in the dishwasher, run a sanitizing cycle to rid yourself of all the harmful bacteria. Soak your toothbrush holder in liquid dish soap and water for about 10 minutes if this is not a good option. After you do this, pour rubbing alcohol into the bottom of the holder coating the bottom, and swish it around. Dry using a clean towel.
For an electric toothbrush holder, unplug your toothbrush and the holder. Wipe down the exterior of the holder with dish soap and water. Mix with distilled vinegar (half and half) in another water basin. In the basin, soak the toothbrush cap and any other submersible parts. Rinse the cap with warm water and use some vinegar and water to clean and sanitize the inside of the holder. Use a hair dryer to dry the holder, cap, and any other parts that were cleaned.
In Closing
While the debate on whether to keep your toothbrush in the bathroom continues, it's important to note that storing it away from the toilet and sink can minimize exposure to airborne particles and bacteria, and visiting the dentist's office will help you achieve and maintain an optimal dental and oral health. So, in summary, by taking proactive measures, following proper oral hygiene practices, and regularly visiting your local dentist, you can ensure a bright and healthy smile for years to come.