If you're a parent, you know the struggle of getting your kids to brush their teeth as often as they should. Unless it's fun and exciting, kids don't want to do it! We're here to help. Often, something as simple as a fun electric toothbrush is just the ticket to get kids to become more engaged and invested in the mundane routine of brushing their teeth. However, there are many different options on the market for these electric toothbrushes. So what is the best electric toothbrush for kids? Here are some of the best electric toothbrushes for kids:
So now that you have an idea of the best electric toothbrushes available for kids, let's examine them in greater detail below. However, first, let's talk about why regular brushing is so important for kids.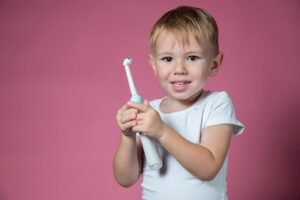 Brushing Your Teeth Regularly Is Important
There are many reasons why it's important for kids to brush their teeth.
First, brushing helps remove plaque from teeth, which can cause cavities. Plaque is a sticky film of bacteria that forms on teeth. When plaque isn't removed, it can turn into tartar, which is much harder to remove. Brushing also helps prevent gum disease, which can lead to tooth loss.
Another reason why it's important for kids to brush their teeth is that it helps keep their breath fresh. Nobody wants to be around someone with bad breath! Brushing also helps prevent staining of the teeth.
Finally, brushing is just good for overall oral health. It helps remove food particles and bacteria from the mouth, which can lead to other problems if left unchecked.
So, as you can see, there are many good reasons why kids should brush their teeth. Be sure to encourage your child to brush regularly, and to see a dentist for regular checkups!
The Best Electric Toothbrushes For Kids
An electric toothbrush can help kids brush their teeth more effectively than a manual toothbrush. The rotating bristles of an electric toothbrush can remove plaque and bacteria more effectively than manual brushing, and they can also help to massage the gums and stimulate blood flow. Electric toothbrushes can be fun for kids to use, too, which can help them to stay motivated to brush their teeth regularly. If you're looking for a way to help your kids brush their teeth more effectively, an electric toothbrush is a great option. So, now let's take look at some the best Now let's get into some of the best electric kids' toothbrushes on the market.
The Oral B Kids Electric toothbrush is a classic choice, for both adults and children. With a great reputation for being one of the best electric toothbrushes available on the market, shown by its high reviews and ratings from customers. So, all in all it is a great choice for any children ages 6 years old and up. Especially with its Star Wars branding, a kid can't ask for more! However, if your kids are younger than this, we would recommend another option from this list.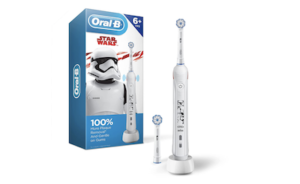 Another great option is the Philips Sonicare for Kids toothbrush which is for children ages 3 years old and up. A great feature is that it has interactive and Bluetooth connection capabilities so that kids can learn more about dental health while brushing in a fun way!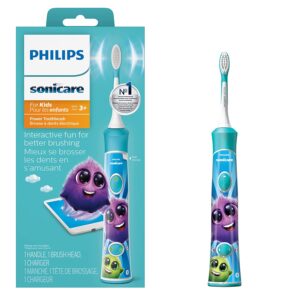 3. BURSTkids Kids Electric Toothbrush
This toothbrush is for ages 3 plus and it comes in a variety of fun, vibrant colors! It is fun and easy for children to brush their teeth with this great toothbrush! Another great feature of this toothbrush is that it has a silicone grip so that kids can't easily drop it or let it slip out of their hands. Also, it can be used for 30 days on a single charge! This is great as you won't have to keep buying batteries like with other kids electric toothbrushes.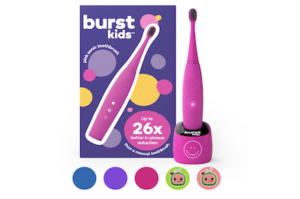 4. Vekkia Dragon Lord Sonic Rechargeable Kids Electric Toothbrush
This electric toothbrush comes with a rechargeable battery and it is a great option for kids three years old and up. Also, it has a small and slim handle which is great for small children, as well as extra soft bristles on the vibrating brush head, thus ensuring it is gentle on the gums, all while making it fun for them to brush their teeth.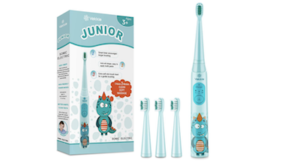 5. Amazon Basics Kids Battery Powered Toothbrush, 2 Count
Finally, the most economically friendly option is the Amazon Basics power toothbrush. This kids' battery-powered toothbrush is made for kids ages three and up and it very colorful and highly rated choice. In our opinion, it is a great first electric toothbrush for your kids, as is available at a very low price, so if your kids are too rough with it and break it or drop it, it won't be a huge loss.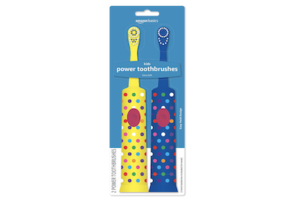 Getting the perfect electric toothbrush is just the first step in your child's dental hygiene journey. You have to actually get them to use it! Maybe create a reward chart, set a timer, or create a fun jingle that you sing every time they brush their teeth. It's also important to make sure they are using the toothbrush properly.
Things to Consider When Choosing a Dentist
Another important factor in the dental health of your children is regular dentist visits. There are a few things to consider when choosing a dentist for your child.
First, you'll want to make sure the dentist is experienced in treating children and has a good bedside manner. You'll also want to make sure the office is clean and comfortable, and that the staff is friendly and accommodating.
In addition, you'll want to consider the location of the dental office and whether it's convenient for you and your family. You'll also want to inquire about payment options and whether the dentist accepts your insurance.
Finally, you'll want to ask other parents for recommendations. By following these tips, you can be sure to find a great dentist for your child!
Tips for Kids Dentist Visits
Another important factor in the dental health of your children is regular dentist visits. If your kids are like most kids, getting them to enjoy the dentist can be a challenge. Here are some tips for how to have a successful trip to the dentist with your kids.
1. Schedule regular appointments
You should take your kids to the dentist at least twice a year, or as recommended by your dentist. This will help ensure that their teeth are healthy and that any problems are caught early. Early and regular exposure to the dentist will also help to lessen the stress and dread often associated with the dentist's office.
2. Prepare your child
Talk to your child about what to expect during their appointment. This can help ease any fears or anxiety they may have. Just as talking through potential situations and treatments is helpful for adults, it can also be helpful for children!
3. Choose a kid-friendly dentist
Find a dentist who specializes in treating kids, or one who has experience working with children. This will make the experience more enjoyable for both you and your child.
4. Make it fun
Try to make the experience fun for your child. Bring along their favorite toy or book, and let them know that they did a great job when it's all over. Make sure the office is kid-friendly. Look for an office with toys, games, and other activities that will keep your child entertained while they wait. Schedule appointments during your child's favorite time of day. If your child is a morning person, schedule their appointment for the morning so they're not tired and grumpy. Bring along a favorite toy or blanket. Something that your child can hold onto during the appointment will help them feel more comfortable.
5. Reward them
After the appointment, reward your child with their favorite treat. This will help them associate going to the dentist with something positive. Reward them for being brave. Choose a reward that your child will be excited about, such as a special treat or a new toy.
How to Teach Your Kids Good Dental Hygiene
Just as dental hygiene is important for kids, physical hygiene, in general, is critical for children's development and health, but often difficult to teach and instill. As parents, we want our children to be healthy and clean. Good hygiene habits are essential for preventing illness and keeping them looking and smelling their best. Although kids may not always be enthusiastic about personal hygiene, there are ways to encourage them to develop good habits. Here are a few tips:
1. Lead By Example
One of the best ways to encourage good hygiene in your children is to lead by example. Kids learn best by example, so if you practice good hygiene habits yourself, they're more likely to follow suit.
That's why be sure to practice good hygiene habits yourself and be a role model for your children. Explain to them why good hygiene is important and help them understand how germs can spread. Show them how to properly wash their hands, brush their teeth, and take care of their bodies. Also, encourage your children to ask questions about hygiene and help them find the answers they need. When they see you modeling good hygiene habits, they'll be more likely to follow your lead. And, be sure to praise them when they do practice good hygiene! This will reinforce their positive behavior and help them continue these healthy habits into adulthood.
2. Make it fun
Add some excitement to bath time by using playful soaps and bubble baths. Let them pick out their own toothbrush and toothpaste with their favorite character on it. Encourage them to help with laundry day and demonstrate how to sort the clothes properly.
3. Explain the importance
Help them understand why it's important to be clean. Teach them about germs and how they can make people sick.
4. Create a routine
Habits are easier to form when they're part of a routine. Designate specific times for bathing, brushing teeth, and washing hands. Post a visual chart in the bathroom or kitchen to help them remember the steps.
Conclusion
With a little patience and creativity, you can help your kids develop healthy hygiene habits that will last a lifetime. Hopefully, this article recommended the perfect electric toothbrush for your child as well as gave you some creative ideas about how to instill healthy hygiene habits in your kids! Also, make sure to schedule regular checkups with their dentist for fast and easy dental care, so that you can make sure that their dental health is great as it can be. Thanks for reading!