8 Natural Remedies to Help Relieve Gum Pain for Babies During Teething
Teething can be an uncomfortable and painful time for babies. Relieving this pain is important to make sure your baby remains happy and healthy, as gum health starts at an early age, and taking care of your infant's mouth is important for their wellbeing. Overall, learning different ways you can naturally remedy your baby's teething pain will be helpful as it will help your baby get back to being happy and pain-free as soon as possible. So what are some natural ways to help relieve gum pain for babies during teething? Here are some natural remedies to help relieve gum pain for babies during teething:
Using Cold Objects
Cold Objects to Chew On
Cold Drinks
Frozen Fruit
Breastfeeding
Chamomile Tea
Cleaning the Gums
Massaging the Gums
So, now that you have an idea of some of the best natural remedies to help relieve gum pain for babies during teething, let's look at these different natural methods to see which options are best to help ease your baby through their teething process.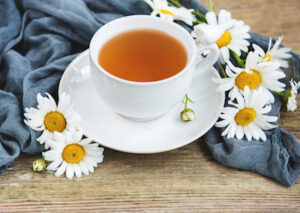 1. Using Cold Objects
Cold objects, such as a clean wet washcloth or an ice cube wrapped in a thin cloth, can help numb your baby's gums and provide relief from pain. This works just like icing any other part of the body as the coldness from the object will help relieve pain and discomfort in the area.
2. Cold Objects to Chew On
Also, you can use cold objects for your baby to chew on. Refrigerated washcloths or teething rings can be a great way to provide some cooling relief for your baby's gums. Just make sure that whatever you're giving your baby to chew on is small enough that they can't choke on it.
3. Cold Drinks
Cold beverages, such as water or unsweetened fruit juice, can also help ease gum pain. These will work like any other cold object by using coldness to relieve irritation and discomfort in the area. Avoid giving your baby sugary drinks however as they can cause cavities.
4. Frozen Fruit
If you're looking for something a little more natural than teething tablets, frozen fruit can be a helpful option. Choose fruits like bananas or strawberries, as these are softer and less likely to bruise your baby's gums. Peel and slice the fruit before freezing it, and then give your baby a few pieces.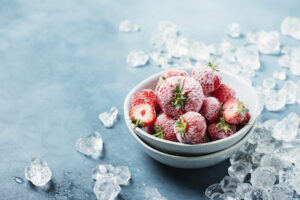 5. Breastfeeding
If you're breastfeeding, letting your baby nurse more often can help soothe their gums. This is because the act of nursing can help massage the gums, which can reduce inflammation and pain. It is also a very natural remedy as you will not have to worry about any harsh chemicals being introduced to your baby.
6. Chamomile Tea
Chamomile tea has soothing properties that can help reduce gum pain and inflammation. Make a cup of chamomile tea and then let it cool before giving it to your baby to drink. You can also soak a clean cloth in cooled chamomile tea and place it on your baby's gums for relief.
7. Cleaning the Gums
Gently cleaning your baby's gums with a soft, wet cloth can help remove any irritants that might be causing pain. Be sure to do this gently so you don't hurt your baby's delicate gums.
8. Massaging the Gums
Also, you can gently massage your baby's gums with your finger, as this can help reduce pain and discomfort. Be sure to wash your hands thoroughly before doing this, and use a gentle touch so you don't hurt your baby's delicate gums.
Benefits of Natural Remedies
By using these natural remedies, you can help ease your baby's gum pain and make the teething process a little easier for them. Just remember to use caution when giving your baby cold objects to chew on, and always supervise them while they are chewing on anything. If you have any concerns about your baby's teething, be sure to speak with their doctor.
Reasons to Use Natural Remedies
There are several reasons why you might want to use natural remedies to ease your baby's gum pain. Natural remedies are usually safe for babies to use, and they tend to have fewer side effects than medications. They can also be more affordable than some over-the-counter options. Additionally, natural remedies are often more convenient than having to go to the store every time your baby is in pain. By using these natural remedies, you can help ease your baby's discomfort and provide some relief from the pain of teething. Try out a few different options to see what works best for your little one, and always consult with your pediatrician before giving your baby any medication.
When to Call the Doctor
Most cases of teething are nothing to worry about and will resolve on their own. However, if your baby is having trouble sleeping or eating, seems unusually irritable, or has a fever, you should call their doctor. These could be signs of an infection or another underlying condition. Teething can be a difficult time for both babies and parents, but there are ways to ease the discomfort. Try some of these natural remedies and see what works best for your little one.
How to Care for Your Baby's Teeth
Once your baby is done teething, taking care of their teeth is also important. You should start brushing your baby's teeth as soon as they come in. It's also a good idea to take them to the dentist for regular checkups, starting around their first birthday.
By taking these steps, you can help ensure that your baby's teeth are healthy and strong. Teething can be a tough process, but hopefully, these tips will help make it a little easier for both you and your baby.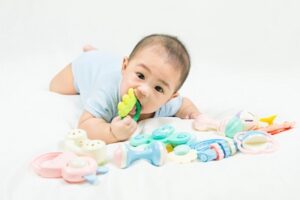 Why It Is Important to Care for Your Teething Baby's Gums
The discomfort that comes with teething can make babies really cranky and irritable. It is important to do everything you can to ease their pain so they can be comfortable. By reading up on these natural remedies now, you will be prepared to aid your baby when they begin their teething process. If you've tried all of the above home remedies and your baby is still in pain, you can give them a very small amount of infant acetaminophen or ibuprofen. Be sure to follow the dosage directions carefully, as giving your baby too much medication can be dangerous. If you're unsure about whether or not to give your baby medication, always consult with your pediatrician first. Teething is not a dangerous process, however, as your baby will most likely not need to go to the doctor while their teeth are coming in. They also will not experience any more pain after their teeth have broken through their gums. So, now that you are an informed parent who knows what to do when their baby begins teething, make sure to try out the eight different natural remedies above, your baby is sure to thank you for it!
Related Questions
When Do Babies Start Teething?
Most babies start teething around 6 months old, but some may start sooner or later than this. You'll know your baby is teething when you see them putting everything in their mouth, drooling more than usual, and rubbing their face and ears. They may also have a slightly elevated temperature.
How Long Does Teething Last?
Teething usually lasts for several months as multiple teeth begin to come in. The good news is that the pain usually goes away once the tooth has broken through the gum. After this happens, your baby should be back to normal and you should no longer have to worry about remedying your baby's pain.
Why Does Teething Hurt Babies?
Teething can be a painful process for babies, as their tiny teeth push through the gums. This can cause inflammation and soreness in the gums, which can be quite uncomfortable for your little one. The good news is that there are things you can do to help ease your baby's pain.
Does Teething Always Hurt for Babies?
No, not every baby will experience pain during teething. For those who do, however, it is important to be familiar with the different ways you can help relieve your baby's pain.